MiXX Canada talks digital
The IAB conference in Toronto saw presentations from eMarketer, Mindshare and Taxi on how to thrive and survive in the digital space.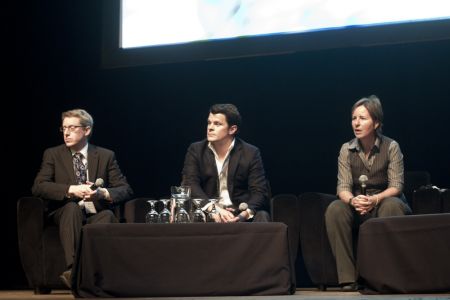 Yesterday's MiXX Canada conference, presented by IAB, was by no means a low-key affair, with speakers from research companies, media and creative agencies dishing out solicited advice to a full house at the Carlu in Toronto.
Creator of the documentary film The Naked Brand and co-president of US-based agency Questus, Jeff Rosenblum set the day's proceedings in motion with thoughts on brand transparency, social responsibility and the R&D deficiency of late.
Rosenblum said that he is concerned with the amount of funds spent on advertising in order to make a brand look great, instead of on research and development of products that actually provide value. He made his case with a Crayola product that was injected with copious amounts of marketing dollars, but was neither practical nor user-friendly as seen by the scores of disgruntled reviews on Amazon.
His feelings on offering quality products before excessive marketing also translate to corporate social responsibility, with Rosenblum saying that companies need to know where they stand with customers, and that their products are of value, before pulling out the environmentally-friendly card.
Second on the morning agenda, Geoff Ramsey, CEO and co-founder of eMarketer, divulged what he believes to be the top digital trends of 2012, using research findings from companies such as Nielsen, comScore and Forrester, as well as his own.
Ramsey discussed how metrics are only going to get more complex as time goes by with regards to RTB platforms, ROI, attribution modeling and big data. Many question online metrics and their ability to quantify financial impact on a business, he says. But, digital spending is predicted to become a priority with 72% of global marketers planning to shift funds from traditional to online media this year (according to the Society of Digital Agencies).
Social media will swing into full gear this year, Ramsey says. He also confirmed numbers that MiC recently reported on by saying that between 58% and 64% of internet users log onto social networking sites, and of those users, 90% are in the age range of 18 to 34.
He gave praise to social media by saying that brands can use what their consumers say about them on social sites to their advantage. Listen to the language they use, their interests and intentions and then adjust your marketing program to better fit their needs, he says.
According to New York University and Conversocial, "45% of social media users would feel 'angry' if ignored by companies on a particular social media platform."
Another piece of advice that Ramsey left with the attendees yesterday was that of targeting through "magnetic content." He explains that the classic disruption/interruptive model of advertising will eventually be rendered obsolete, and replaced by experiences that attract rather than distract.
Magnetic content needs to be "unique, useful, well executed, fun/entertaining and makes good use of the channel in which it appears," he says, using Canadian Tire's Spirit Tree as an example.
Speaking of Canadian Tire, Steve Mykolyn (CCO at creative agency Taxi) was third to grace the stage with a presentation on the results and learnings from the retailer's nearly one-year-old House of Innovation.
Mykolyn said that with the marketplace broiling with competitors, Canadian Tire needed to differentiate itself from an innovative standpoint. Most of the media buy for the house was focused on digital, he says, with a substantial amount of effort also put into owned media such as the retailer's flyers.
Initial tracking showed that 67% of viewers watching the House of Innovation videos ended up purchasing a product in-store. Up to 550,000 consumers visited the site and the 99 videos have garnered a total of over 60,000 views to date.
The morning session of the conference ended on an RTB and ad exchange note with presentations from James Aitken, managing director, The Exchange Lab; Alex Gardner, publisher relationship manager, Casale Media, Chris Williams, managing director, Media Contacts; and Tessa Ohlendorf, digital analytics, Mindshare.
The talks covered topics from the benefits of trading desks to tips on how to get a campaign off the ground using ad exchanges. What was expressed as disconcerting, by almost all of the speakers, was the Canadian lag with regards to the use of the different platforms that allow behavioural targeting for a cheaper price.
Ohlendorf was particularly concerned with the low number of marketers (sitting between 2% and 5%) using the trading tools, adding that the US is far ahead of the Canadian market with agencies resorting to looking south of the border for knowledge and expertise on the subject. She adds, "We need to play catch-up and have hands-on experience in order for us to run our own campaigns."
Photo (left to right): Chris Williams, managing director, Media Contacts, James Aitken, managing director, The Exchange Lab, Paula Gignac, president, IAB Canada