Molson M paints with tweets
The beer brand is erecting a massive graffiti mural in Toronto that incorporates Twitter handles from 20,000 users.
Molson M is taking its arty positioning to the consumer level with the launch of a graffiti mural in Toronto which will incorporate tweets from an estimated 20,000 Twitter users.
The newly repositioned brand has commissioned international artist, Kustaa Saksi, to design and apply a 40-feet-high and 100-feet-wide graffiti mural to a building on King St. in downtown Toronto.
The piece, which aims to convey the idea of Molson M as liquid art, will be comprised of around 20,000 Twitter handles from those who tweet #MolsonM_Art and will look as though it's coming out of a billboard placed against the wall. Tweets will be accumulated and applied to the wall over the next four weeks, with the brand donating $1 per tweet to the Canadian Art Foundation.
More of these OOH murals, although on a smaller scale and without the incorporation of tweets, can be seen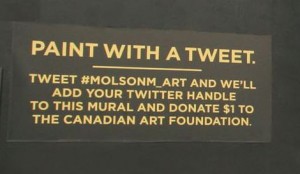 throughout Toronto and other cities across the country including Montreal, Calgary and Quebec City, Martine Bouthillier, senior brand manager, Molson Coors Canada, tells MiC.
She says that the campaign's media agency, Mediaedge, has also placed billboards and transit wraps in the cities as well as online banners on sites that look to drive participation by asking viewers to tweet to Molson. The creative is the brainchild of Toronto-based BBDO.
"We didn't want to do things the same way that other beer brands would do, and we also wanted to use the medium in a creative manner. We're making a parallel between art and our brew masters," she notes. "Our TV campaign was a non-traditional one for beer, and we also wanted our OOH to be perceived as non-traditional."
Bouthillier explains that the brand used Twitter for the mural because it is one of the most efficient tools to spread word of an initiative, it's simple and easy to track. It's also something Molson plans to use more of in the future, she adds.