ING's explosive branding
A brand revamp by new AOR John St. positions the financial institution as a modern alternative to the big five banks.
ING Direct is blowing up old ways of banking. Literally.
The financial institution is introducing its new branding with a 60-second spot that sees the contents of a traditional bank exploding, including the velvet rope, a water cooler and one of those ubiquitous pens attached by a metal chain to its base. The spot ends with the super, "It's time to stop banking in the past," and shows an ING customer in one of its cafés, banking on a tablet in a comfortable armchair.
The spot is just one element of a rebranding effort by ING to change consumer perceptions, and leaves behind iconic Dutch spokesperson Frederik that ING had used for 13 years prior to 2011.
"Our equity was very much rooted in savings, it was reflected even in our tagline ("Save your money"), and people didn't see us as a bank per se, but more as an account or niche provider," says Andrew Zimakas, CMO, ING Direct. "So we weren't breaking through and resonating as a viable everyday [banking] option even though we had the ability to be so."
A new tagline "Forward Banking" is meant to set ING apart from the big five banks as a modern alternative.
"Forward banking is everything from products to [ease of] access to the simplicity of banking, whereas banks often make it complicated," explains Angus Tucker, partner and CD at John St., ING's AOR as of about six months ago, when it took over from GWP.
The campaign drives home the fact that ING doesn't have branch locations, but rather communicates with customers online, through call centres and at the aforementioned cafés. New design work by John St.'s in-house design shop AmoebaCorp, including an updated logo with an arrow icon, also gives off the forward-thinking vibe.
"It's probably safe to say you couldn't have done this a few years ago," says John St. president Arthur Fleischmann. "The insight was that the majority of people will bank online, but very few will use an online bank as their primary bank. It's a weird paradox that's probably ready to be busted down."
Following the 60-second spot, two 30-second spots highlight some of ING's products, using humour to play off the "stop banking in the past" premise and poking fun at conventional banking. In a spot for the Thrive chequing account, a banker is speaking with customers, then the light flickers and the banker steps away from his desk to add coal to a furnace, which is powering the lighting. In another spot for an investment savings account, a bank employee asks her customer if she'd like some water, then starts pumping it from an old-fashioned well.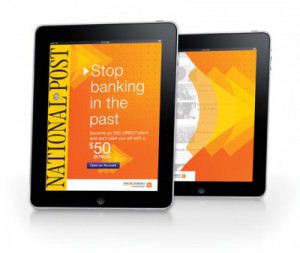 With media handled by Initiative, other campaign elements include OOH in Toronto, Calgary, Vancouver and Montreal, and print, such as a cover wrap of Financial Post magazine. Digital agency Dashboard worked with the brand on online components, including mobile apps, social media activity and banner ads, such as one that shows a visitor being "charged" for mouse clicks, reading, "You wouldn't pay to use your mouse, why would you pay to use your money?"
"The idea is to have a head-turn effect and for people to recognize that something's going on here, and what we're about is perhaps different from what they conceived," says Zimakas.