Call for entries: Media Agency of the Year
The competition for top media agency in the country has begun, with the first round of submissions due May 18.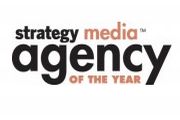 Submissions for Strategy's Media Agency of the Year are now open.
Strategy's Media Agency of the Year awards are unique in the Canadian mediascape in that they measure a body of work, which points to an agency's ability to consistently deliver outstanding creative and strategic results for their clients.
Similar to strategy's esteemed Agency of the Year awards (which is also now accepting submissions), strategy's Media Agency of the Year is determined by a jury of marketers, senior media agency professionals and media sellers.
Last year, MediaCom took home the Gold. Read about all of last year's winners here.
How to enter:

Submit three (3) media campaigns for consideration. Each of the submissions should only include the work from one distinct campaign, and each submission must be for a different client.
Your agency must have played the central strategic and creative lead in planning and executing the media campaign described.
Campaigns must have run in Canada – if it is a global campaign, it must have also run here. The only exception is a Canadian brand that ran an international campaign (such as a tourism organization).
The work must have appeared for the first time at some point during the 12-month period from May 2011 – May 2012.
Strategy reserves the right to disqualify agencies that do not meet the above criteria.
In 75 words or less, for each campaign, include only:
- the name of the campaign
- the name of the client (brand/company, not individual)
- a brief description which will enable those polled to distinguish the outstanding media aspect of the work. Please explain it as if you are describing it to a person who is completely unfamiliar with the campaign.
Do not include images, links, or other supplementary information.
Submit your entries in a Word document attachment by email to ejackson@brunico.com by May 18, 2012. (No PDFs please.)
Only those agencies who submit three campaigns by the deadline will be considered for the MAOY shortlist.
These Top 3 lists will be put to a survey of senior Canadian agency executives, as well as senior marketers and media sellers to determine a shortlist of media agencies who will then be invited to submit more substantial media case summaries for evaluation by a jury. The shortlist will be informed by mid-June, and the winners will be announced at the strategy Agency of the Year gala this fall and be featured in our November issue.
There is no entry fee to participate.
Please also include the contact information of the person who should be notified if and when your agency is voted onto the shortlist.
Please don't hesitate to contact Emily Jackson at ejackson@brunico.com or 416-408-2300 ext. 503 at any stage in the process if you have concerns or require clarification about specific aspects of the competition.