SickKids shifts gears to 'Do the Happy'
The Toronto hospital is taking a different approach with a multi-platform campaign that attempts to put a positive light on the services it provides.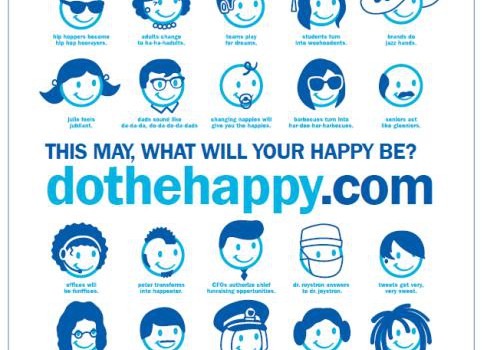 Hospitals aren't necessarily thought of as happy places. However, Toronto's SickKids is putting on a brave face and asking Canadians to do the same in celebration of all the hopeful experiences that come out of its hospital.
The "Do the Happy" campaign, with media planning and purchasing by Maxus Canada and creative developed by Oxygen, officially kicked off today at Nathan Phillips Square in Toronto. The idea behind the launch event is to get families and friends together to – in a nutshell – be happy.
Musical performances, entertainment and a giant smiley face for children to colour is on the agenda today, with the hospital asking Mayor Rob Ford to declare May the "month of happy" in support of the hospital's efforts, David Estok, VP, communications, SickKids, tells MiC.
Prior to today's official announcement of the campaign, teaser ads (with only the "Do the Happy" website URL) were placed in areas throughout the city. And now, the awareness campaign includes branded wild postings, transit station ads, digital boards, partial domination of high-traffic areas such as Yonge-Dundas Square, and images of smiley faces wrapped around the doors of subway carriages . There are also print ads in Metro and the Toronto Star as well as online banner ads on sites that drive viewers to Dothehappy.com.
The city takeover will continue until the end of May and will support the need for donations to the hospital to keep children healthy, and therefore happy, says Estok.
"Traditionally, our campaigns have been around narratives about children at the hospital and what happens to them. This time, it's a bit of a celebration. It's about celebrating the high quality care we have at the Toronto hospital, but also reminding people about the important issues in child healthcare today."
Estok says that the hospital is asking Canadians to get involved in three ways, by either donating to the hospital, participating in the positive movement by holding an event that involves anything that helps them "Do the Happy," or by spreading word of the campaign through social media.
"We wanted to create a bit of interest in the advocacy element as well as reinforce how philanthropy plays such an important role in making [SickKids] a great hospital," he adds. "There is a real sense of optimism and hope around the campaign, even though it deals with tough situations."