Velvet Media gets moving with walking digital billboards
The Toronto-based company has launched its boards in digital form with Rogers being the first to sign on.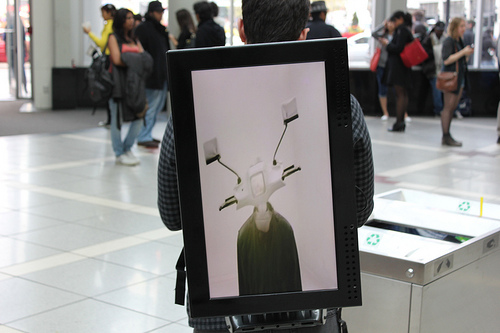 Velvet Media has enhanced its walking billboards, transforming it from a print medium to digital, in an effort to keep up with the times.
The newly launched weather-resistant, LED Digi-Pack boards are sized at 32-inches , Dan Shafro, account manager, Velvet Media tells MiC.
When the company launched in 2008, so did its backlit print boards – being used by brands such as Carlsberg, Bank of Montreal, Universal Pictures and most recently, IKEA, in an execution that placed five of the piggy-backed print boards next to one another to create one large billboard for its new store in BC.
For the launch of the new digital boards in Canada, Velvet Media has partnered with Rogers and will be using the boards later this year to promote its services, with the boards connected to a mobile device that will allow pedestrians to, for example, sign up for Rogers phone contract on-the-spot, says Shafro.
Later in the year, the company plans to include touch screen capabilities, he adds.
Shafro says that the Digi-packs are of value to advertisers in that they are able to reach large audiences at a more efficient cost than stationary boards, adding that there are no additional permit fees for places such as the Rogers Centre, ACC, Molson Amphitheatre and TTC stations because of the relationship it holds with the large venues.
The company will measure reach and engagement by having the ambassadors (usually between three and 10 at a time) to record, with an app, every interaction they have with pedestrians, says Shafro.
This story has been updated to reflect a correction. Media in Canada mistakenly reported that Velvet Media uses COMB audited studies to provide traffic numbers for its clients, when in fact, the media company is not a member of COMB and  has no direct access to its studies. We regret the error.