Honda Dealers take top spot: Media Monitors, May 14 -20, 2012
The auto dealer entered the chart at #1 in Toronto, while Ford Dealer Association made the largest radio purchase in Montreal.
According to Media Monitors, Honda Dealer Association made its debut in the top spot for the week of May 14 to 20 in Toronto.
Another auto trader, Chevrolet Dealer Association, made a substantial radio purchase for the week – taking it from the previous week's #4 position to #2. Telus Mobility remained stationed at #3.
Bacardi entered the chart at #9 and noteworthy moves were seen from Canadian Tire (from #20 to #6) and Mazda Dealer Association (from #32 to #10).
In Montreal, Ford Dealer Association shifted one place up to #1, as did Brault & Martineau from #3 to #2 which allowed Wal-Mart to move into the third place position from the previous week's #8 spot.
New entrant Bell High Speed Internet came in at #9 and Telus Mobility made a big move from #21 to #7. Tim Hortons also made a larger-than-usual purchase and jumped from #45 to #8 on the chart.
Toronto:
By brand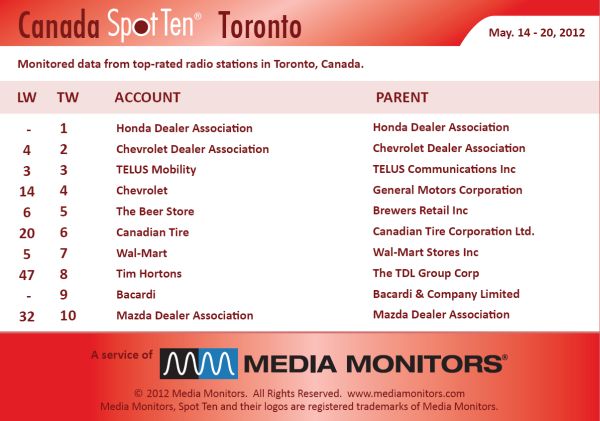 By category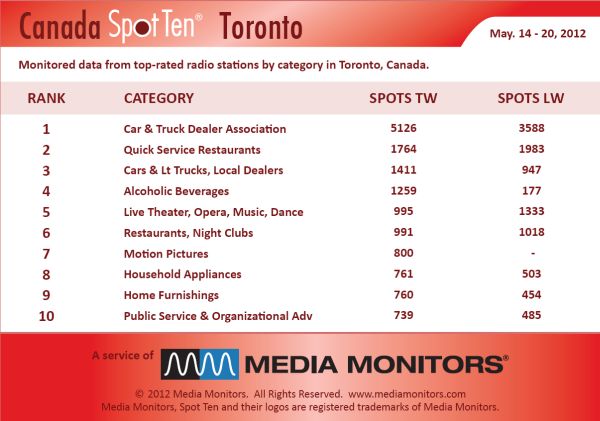 Montreal:
By brand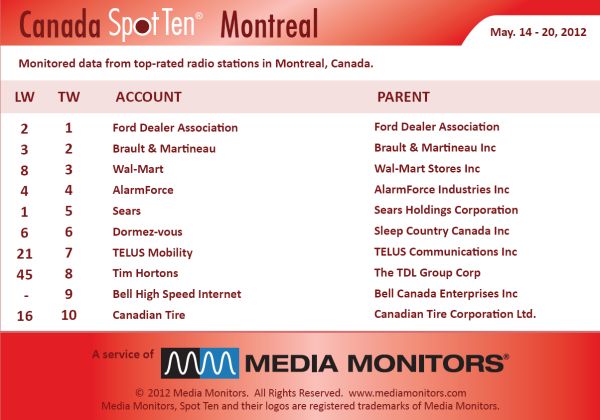 By category