Michelob Ultra takes to the links
The Labatt brand is targeting high-end golfers by placing interactive ads on golf carts.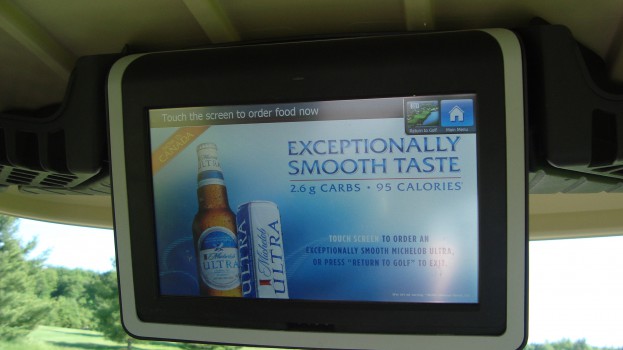 Labatt is getting right into the game with golfers with the launch of an interactive DOOH campaign utilizing Abcon Media's national golf network.
As part of its Michelob Ultra launch in Canada, the beer co is focusing on golf carts with custom content and interactive ads, Tom Novosel, VP of Marketing at Toronto-based Abcon Media, tells MiC. Throughout the entire golf experience, the customer experiences static full page, banner and video/audio ads, but is also able to interact with the brand directly by ordering Michelob Ultra from the golf cart through touch-screen GPS technology. Media for the campaign was handled by UM with creative by Grip Limited.
The GPS screen provides access to visuals of hole layouts, info about distances and pace of play and pro golf tips. As the golfer is driving, auto-prompts pop up, urging the customer to interact with the screen.
This campaign engages a highly targeted and specific demographic of affluent managers and executives who visit hgh-caliber golf courses.  The fee of the average golf course in the campaign is $75, higher than the typical network golf price.
Live for about a week and running for eight weeks during Canada's prime golf season on 3,500+ screens across the country and reaching over 200,000 golfers, the campaign is generating at least 72, 000 impressions per day with the potential for more than twice that, says Novosel.