McDonald's answers consumer questions
The brand is continuing its efforts to be transparent about its offerings with a new digital platform that creates a two-way conversation with Canadians.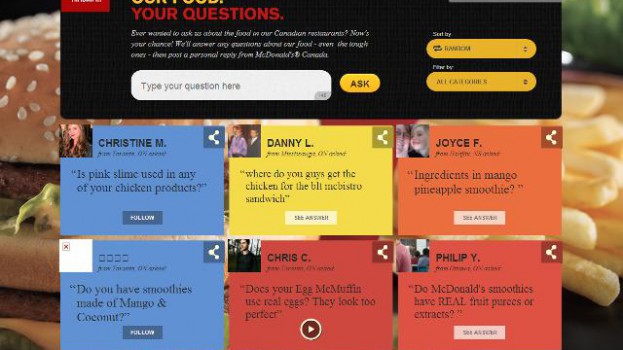 McDonald's Canada has opened the door for consumers to ask the fast food restaurant any question that comes to mind (provided that it pertains to its offerings), with the promise of receiving a direct and immediate response from the brand.
The QSR is allowing inquisitive consumers to submit a query on its "Our Food. Your Questions" microsite, which could include anything from what ingredients are put in its meals, to how menu items are prepared.
To drum up awareness for the online platform, created with digital agency Tribal DDB, the brand worked with OMD to place digital ads on news websites across the country, such as the Toronto Star and Montreal Gazette, as well as on YouTube and Facebook.
Joel Yashinsky, SVP and CMO, McDonald's Canada, tells MiC that the initiative is an evolution of its All-Access Moms program that launched last year and gave four Canadian moms a behind-the-scenes look at how the company operates. The participants were then asked to share what they learned on their blogs and social media channels.
The brand's efforts to develop a two-way conversation with consumers has expanded from reaching out to a handful of influential bloggers to including anyone and everyone who wants to participate.
"We're really trying to reach as many Canadians as possible. So, we developed this platform to have a robust and healthy conversation about our food in a social atmosphere," adds Yashinsky.