Secret Location launches FanViewr app
The launch cuts steps out of creating brand pages by eliminating the need for third-party apps on Facebook.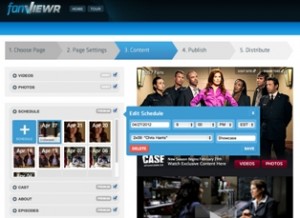 Interactive agency Secret Location is looking to streamline content distribution for film, television and web series creators over Facebook, with the launch of FanViewr, an application creators can use to upload photos, video, episode schedules and synopses, to Facebook pages.The app can be integrated with a broadcasters' proprietary video players.
James Milward, Secret Location founder and exec producer, tell MiC that FanViewr eliminates the need for multiple and third party apps to build a brand's page, meaning all the elements "like a video player, information tabs, and cast photo uploading, for example" are built in to the single FanViewr app, which is also accessible via mobile.
"Everything was possible in Facebook, but super disjointed and disorganized, and there was no way to align everything, so this is really focusing on content creators' specific needs," says Milward. "We've made the app to allow a content creator, distributor or producer to make the equivalent of a website for their show, in [Facebook]."
Users can also use singular elements of the application "like a show's schedule or cast member bios" to create custom posts to be inserted on the broadcaster's Facebook timeline, letting content creators capitalize on what Milward describes as the "evolutionary and growing chain of information" offered by the updated social media site design.
The app is first available through a free trial for a month, and then users can choose from two package options. Users can either chose a $9.99 per month plan, accessing a video player and an "about" section,which Milward says he sees as more appropriate for content creators who are in the pitching stage. Or for a more robust online presence, at $39.99 users get an app with more options for content, like cast and schedule information.
Milward adds that there's a next-level option for broadcasters to integrate their proprietary video players into the app, so video is delivered over one source, via the network's online player, instead of having to uploading it onto YouTube or Vimeo.
Secret Location used a similar method for Shaw Media's King series on Facebook, and resulting in eliminating the need to aggregate content views from several different social platforms and sources.
"It's really powerful because then it aggregates your views for all video in one place. What we're able to do is bring [a broadcaster's] proprietary player in as the source, and it's just a distribution platform for them," explains Milward.
The app is also accessible via mobile, defaulting to a Flash video player, but switching to an HTML5 player when it detects that a user is on a mobile device.
The idea for FanViewr came out of repetitive app-building Secret Location undertook for each content property on which it worked on. In an effort to save on resources and time, it built FanViewr for use in-house so that anyone in the office could build a project's app relatively easily, an idea which Milward says evolved into a consumer proposition.
"The reality is everyone needs to be multi-platform these days, everybody wants to be in social networks, but it's not an easy proposition to onboard yourself and understand strategically how to do that," says Milward.
He says the app, over time, could grow into a platform for keeping a content creator's independent web experience and Facebook experience connected, by bridging information for those separate outlets through the single platform.
"It's a lot of management to flip between multiple systems and update the same information, so if you can do that once in one very simple platform and it distributes to all of your outlets, that's really powerful," he says.
From Playback Daily