Spotted! Ben & Jerry's scoops up followers at NXNE
Consumers can tweet their location in Toronto this weekend to have the brand's eco-cab meet them for a free scoop of ice cream.
Ben & Jerry's is hitting the streets with cow-print trucks and treating music festival-goers across Canada with free ice cream.
The ice cream brand's first stop on its "Scoop Moovement" tour is at the NXNE music festival in Toronto. The Yonge-Dundas Square stunt, which began yesterday and will continue right through to Sunday, has seen Ben & Jerry's ambassadors giving out free scoops to pedestrians.
Using the #scoopmoovement hashtag, consumers can also treat themselves to on-demand ice cream by tweeting the intersection where they're located, Charlie Clark, brand manager, Ben & Jerry's Canada, tells MiC. Brand ambassadors will then make their way (using branded eco-cabs) to the top tweeted intersections and hand out free scoops.
The target audience for this initiative is upper-income urbanites between 18 and 34 years old, he says.
"Ben & Jerry's has strong awareness, but we don't have deep penetration in Canadian households," he explains, adding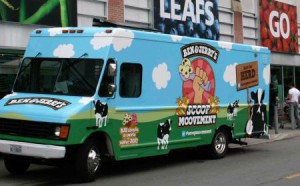 that the brand is giving consumers a chance to try out the ice cream for free with the hope that it will be top-of-mind  when next at the grocery store.
The ice cream brand's next sampling stops include the Sarnia Bayfest in mid-July as well as the Big Valley Jamboree in Camrose, Alberta and Kokanee Crankworx biking expo in Whistler, BC in August.