CTV, CBC Olympic bids too low for IOC
The Bell Media-CBC partnership dissolves after two bids for the 2014 and 2016 Games were rejected by the International Olympic Committee.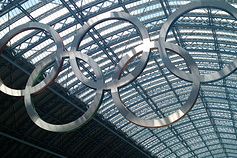 Bell Media and CBC/Radio-Canada announced Monday that they will submit no further joint bids for the exclusive Canadian media rights for the 2014 Olympic Winter games in Sochi, Russia, and the 2016 Olympic Games in Rio de Janeiro, Brazil.
"We presented not one, but two fiscally responsible bids that are reflective of the Canadian marketplace. Unfortunately, we were not able to reach agreement on terms with the IOC," said CTV programming and sports president Phil King, in a statement.
"We were optimistic that an agreement could have been reached but it has to work for all parties…regrettably, that won't happen. In light of this decision, CBC will step back and take some time to consider our options," said Jeffrey Orridge, CBC sports properties exec director, on behalf of CBC/Radio-Canada, in the same statement.
Essentially, Bell Media and the CBC didn't put forth enough coin, a point that was confirmed by the CBC's head of media relations Chuck Thompson.
"Neither bid met the IOC's financial terms," he said in an email.
While Bell Media VP communications Scott Henderson said that Bell Media will not pursue further bids, the CBC hinted that they haven't given up yet.
"It could be an option for us to consider," Thompson said in an email, regarding the CBC pursuing a further Olympic bid strategy.
The Bell Media-CBC partnership submitted two bids, both of which were rejected by the International Olympic Committee, including a "lowball" initial bid of $70 million, followed by a second one, reportedly slightly higher, in February.
The bids for the 2014 and 2016 Games, less than half of the reported $153 million (U.S.) that the CTV-Rogers partnership paid for the 2010 and 2012 Games ($90 million and $63 million, respectively), indicate that the stakes were definitely higher when the 2010 Winter Games were on Canadian soil.
Back in 2010, the former CTVglobemedia and Rogers were expected to partner up on a joint bid for the Sochi and Rio de Janeiro Olympics, having outbid the CBC for the 2010 and 2012 Olympics.
But when Rogers Media left Canada's Olympic Broadcast Consortium in September, the CBC stepped up to jointly bid with Bell Media for the 2014 and 2016 Olympic Games.
From Playback Daily