The ROM brings dinosaurs to life
Working with Astral, the museum is using augmented reality across Toronto to promote its newest exhibit.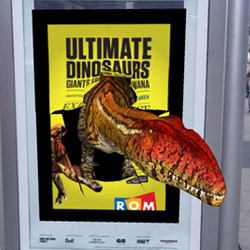 The Royal Ontario Museum set out to do something different when promoting its newest exhibit, Ultimate Dinosaurs.
"What we didn't want to do was the dinosaur show everybody's seen a million times," says Tracy Ruddell, assistant VP of marketing at the ROM. "We decided early on that we wanted to try our hand at augmented reality."
The special technology allows iPhone or iPad users to download an app that interacts with Astral Media posters at transit stops across Toronto. When holding the device over the ad you can see a dinosaur come to life on the side of the transit shelter and rip through the poster. Similar technology allows people to see what looks like a life-sized dinosaur walk across the plaza in front of the museum. The ads also work in print, where you can see the creatures walk across the newspaper.
All media planning and buying was done in-house, while Concrete Design was the agency of record for the campaign's creative. The ROM also communicated directly with their membership network of 40,000 households on the launch of the exhibit.
The augmented reality technology features prominently inside the exhibit itself, where complimentary iPads are available to borrow if people do not have their own.
The dinosaur exhibit opened last Friday and saw 3,200 people come through the museum's doors.
The ROM is also engaged in a wider initiative to draw people into the museum that includes a 10-week pilot series called Friday Night Live aimed at the 25-to-34 age group, which features DJs, pop-up bars and a party atmosphere.