Olympic Consortium unveils its digital plans
The broadcast group tells MiC its digital side is more tightly integrated into plans for the London games than it was for Vancouver, as it launches online games with sponsors Air Canada and Samsung.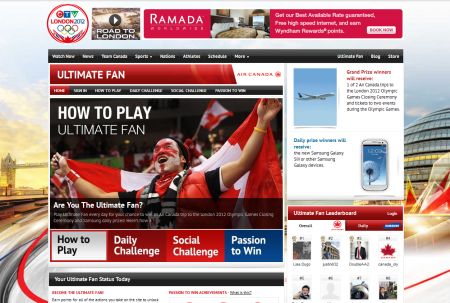 With 28 days to go until the Opening Ceremonies, Canada's Olympic Broadcast Media Consortium has launched a new online game aimed at getting Canadians engaged in the London 2012 Olympics for prolonged periods of time, Mark Silver, head of digital, Canada's Olympic Broadcast Media Consortium, tells MiC.
Ultimate Fan launched on Tuesday and is sponsored by Air Canada. The game is built on the concept of allowing users to earn points, badges and prizes, like a trip to the Olympic Closing Ceremony, by interacting with the site through activities like sharing Olympic content and answering trivia.
"We wanted something that anyone could play, even the casual fan, who might not be an Olympic expert or athlete, who is just tuning in for the few weeks around the games," says Silver. "So things like sharing content, or answering a poll where people can earn points and badges and be recognized on the leader board."
Also launching is Passion to Win with Samsung, a sub-game of Ultimate Fan aimed at more serious gamers, which asks users to predict athlete results, decode questions and answer trivia. Unlike the Ultimate Fan game which allows users to accumulate points for prizes, Passion to Win requires them to rack up a new score each day for a shot at Samsung prizes.
"We had online games in Vancouver, but it wasn't at the forefront the way Ultimate Fan will be for us," says Silver.
The online games will be promoted on the Consortium's broadcast and digital properties, with Silver saying there will be specific emphasis put on integrating the Passion to Win game into its companion viewing app experience.
Also new for London is the integration of social media into a broadcast segment called Bell Social Scene. Silver says the segment, which will be hosted by Monika Platek on CTV and Valérie Sardin on RDS, will take the best in social media content about the Olympics and show it online.