On-the-go Mini showrooms: MiC's Global Tour
MiC spoke with Derek Bhopalsingh at MEC and Jake Norman at Mindshare about campaigns that are bringing products to consumers in new ways.
In the latest international tour, we are looking at at experiential executions from brands that believe in bringing its goods right to the consumer. Such brands were seen driving car showrooms to pedestrians, creating an Olympic-style environment in a backyard and delivering water to kitchens with the press of a button.
MiC spoke with Derek Bhopalsingh, VP, managing partner, MEC Interaction Canada and Jake Norman, president and chief strategy officer, Mindshare Canada, about the campaigns and what they thought worked, as well as how they would do things differently if given the chance.
France: Evian takes the effort out of purchasing water
Research shows that some consumers would likely turn to tap water if it meant being able to avoid the inconvenience of lugging water bottles to their home from the store. In response, Evian launched the "Smart Drop" (pictured) which enables users to order water with the click of a button. The device comes as a fridge magnet and allows consumers to connect to the internet where they can order a delivery of the water bottles.
Bhopalsingh: The Evian idea is a great concept for those that enjoy either bottled or mineral water. It delivered on a key consumer insight: "Most people turn to drinking water from the tap instead of buying bottled water, just because they have a problem carrying the weight home."
The evolution to the "Smart Drop" device is an innovative, forward-thinking idea with the mobile application being a natural extension of the current user experience. The untethering of the campaign from desktop to mobile will only help to increase the platforms growth – however I suspect the sustained success of the program will be challenged by two big factors:
- Limited Capabilities: Given the products they represent, the platform is one-dimensional. It only addresses one item customers need in their fridge. This opens the door for competitors or even retailers to step in and provide a more robust offering to consumers via the same platforms.
- Environmentally focused markets: Environmental concerns, sustainability questions and "green" awareness continue to permeate consumers' minds and purchasing habits. This could lead to apprehensions about using the service's limited capabilities.
Norman: In a world of infinite possibility it is easy to become lazy – too often you see digital for the sake of digital and ideas for the sake of ideas. This however is truly digital innovation that overcomes a real consumer barrier which is analogous to one we have seen in the diaper category; big boxes are not easy to carry home. As an added bonus it creates a direct relationship between the brand and consumer both functionally and digitally.
Click here to read the international story.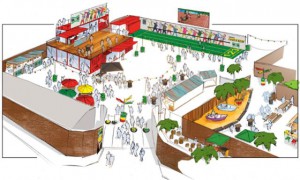 UK: Puma brings the Olympics to a London backyard
With the aim of tying the brand's sporty and social image to the 2012 London Olympics, Puma has transformed part of an old brewery in East London into what it calls a "Puma Yard."
The indoor part of the space, called the Puma Social Club, is a shared social space hosting activities such as fooseball and ping-pong, and is meant for consumers who enjoy social games rather than competitive sport. Whereas the outdoor Puma Yard features Jamaican music and cuisine, giant TV screens allowing fans to cheer for their favourite athletes, as well as the Puma Speed Test, where consumers can test their track speed against world record holders.
Bhopalsingh: Creating branded ambient experiences around the Olympics is nothing new. Looking back at past experiences, most notably Vancouver 2010, it's been done quite well. What I do like about concept is where and how Puma is rolling it out.
One of the first things we're all taught in marketing class is: "location, location, location."  Puma was strategic in their choice of "location" for this execution.  The 479,160-square-foot venue will be located in East London, at a spot known as the Boiler House. While that may not have a lot of relevance for those of you that have never been to London, it does for those that live there. It's an iconic and culturally rich area in the city. It's teeming with worldly influences and has the feel of Toronto's historic Kensington Market.  The venue itself will benefit from the highly trafficked area but will also help to deliver on the brand's recognizable authenticity.
The inclusion of high profile entertainment like Groove Armada and Professor Green will only add to the draw of this event. The use of earned social media platforms (YouTube, Tumblr, Twitter, Facebook), PR and mobile are cost-efficient reach extensions, with mobile advanced ticketing systems a seamless way to streamline the simple digital user experience.
The only thing not outlined in the case study is how they plan to leverage the content/earned media from the event and their post-event retention/sales strategy. During the Olympics, it would seem that consumers would be naturally drawn to authentic Olympic merchandise which makes for an extremely competitive environment during the timing of this experience. Adding these elements to this execution would only help to build on its potential efficacy.
Norman: On a normal day, we know that it is increasingly difficult to get people's attention. With the Olympics only a few weeks away, I would imagine that London is awash with brands competing to land on top of the brand podium in people's minds. Against this backdrop we know that it's uniquely important to think smart and this is a really interesting way of standing out and getting people to experience the Olympics in a branded environment.  Also noteworthy is the fact that they have used music-based brand ambassadors to start to build interest in the event. All in all, some smart thinking and execution has allowed Puma to be guerrilla.
Click here to read the international story.

France: Mini hits the streets to sell
The BMW brand turned the test drive experience on its head by taking its cars straight to potential buyers. With the objective of increasing test drives, the brand sent out 10 Mini vehicles to peruse the streets of Paris for pedestrians to try out the cars without the hassle of going to the showroom.
Bhopalsingh: You cannot help but love a strong campaign idea like this, especially when it impacts a client's business right from launch. Mini France went from five test drives a day to 60! What makes a campaign like this successful?  There were a number of key things that stood out for me.
Both the client and agency understood and believed in a universal product truth: The Mini can sell itself.  All it would take is getting a consumer to experience the brand and drive the car.
The idea was built around understanding the consumer and the business challenge: Consumers were intimidated to go into a dealership and were time starved. Due to budget constraints, Mini could not compete in the media share-of-voice game. The ability to build dealerships was cost-prohibitive.
The concept delivered on key innovative definitions for advertisers: both the client and agency were willing to take a risk and the brand did something completely unpredictable for the category, which delivered on multiple benefits.
With that being said, as a representative of the digital side of things, I would have liked to see more from the case study that spoke to digital activation.  It seems this kind of concept could really have benefited further from additional cost-effective mobile and social extensions. Let's hope that's part of phase two.
Norman: This is an interesting manifestation of a world that has become exponentially busier. While in the past "tire kicking" passed as Sunday afternoon entertainment, now the test drive has to come to you. It would be interesting to know how they promoted the stores. I would hope that this had a smart mobile dimension (for example Google latitude) to help you locate the store with the potential of sharing the test drive seamlessly with friends and turn a single experience into a broader event  (for example, Facebook check-ins). It would also be interesting to know how they chose the audience as there are probably a lot more people looking for a free ride home than there are prospective Mini purchasers.
Click here to read the international story.