Olympic blog: Checking out the branded houses
Steve McEwen takes in the festivities at the Heineken Holland House.
If you've ever been in a city where the Olympics are being held, you know about the National Olympic Houses. I had a chance to check out a couple of the houses over the last week here in London and can say that they've raised the bar once again. Ireland House took over a popular four-story pub near Kings Cross, Brazil House is located in the beautiful Somerset House and Jamaica House went big in the O2.
I chose to spend my time at Heineken Holland House, a perennial favourite, which was celebrating its 11th Olympic games in style by securing the coveted Alexandra Palace. Situated on the top of Alexandra Park, 20 minutes North of Kings Cross, this venue couldn't have been taken over by anyone else. The Dutch House is always the biggest draw and they know how to celebrate!
Rabobank, Netherland Olympic Teams official bank, provided an RFID-style cloud payment system to help keep lines short and transactions quick inside the venue.  With the cloud-based payment system, consumers can choose to put money
on a card which they take with them, or the more tech-savvy can use their phone to facilitate the process. In a time when NFC-based payment systems are becoming more common place on devices, and companies like Google racing to release phone-based payment systems – it's refreshing to see that the event industry is at the forefront of this push (and likely just as important, events provide a controlled testing ground for these society moving innovations).
Other sponsors onsite included Unilever, Volkswagen, Randstad and Lotto. Highlights from these stands were a Volkswagen Cheer to Win game, where the amount of noise you make corresponds to the speed in which you could make the car drive. Lotto also did a draw for all those that entered Heineken House, by printing a unique ID on each wrist band.
After missing out seeing Heineken Holland House in Vancouver, I was thrilled to be able to check out the event leading national house this year in London. Thanks to some luck, and good timing we were also able to see the Netherlands' Marianne Vos receive her Women's Road Race gold in this amazing environment, followed by a classic Dutch party to celebrate.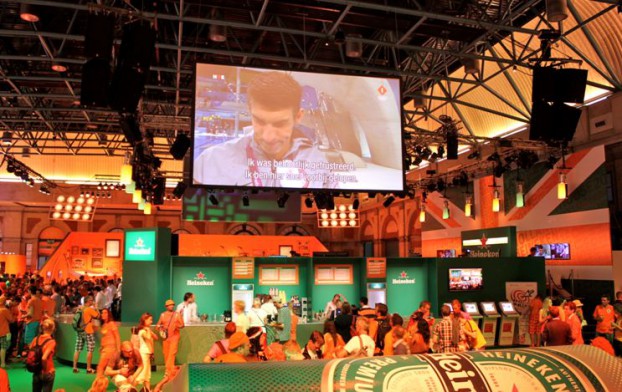 It's a shame that Canada House doesn't make the same effort, choosing to keep the venue chosen for only Olympic families and delegates.
When given a chance to stand on an international stage, why do we continue to allow ourselves to take a back seat? I sincerely hope a brave Canadian brand decides to be a leader in this area, because I know we would be greeted with open arms by the international community.