Shark Week snares 5.2 million Canadian viewers
Impossible Shot was the top program during the week with 357,000 viewers.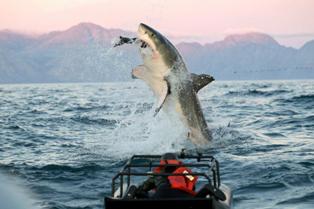 Discovery Channel's 17th Shark Week grabbed a school of 5.2 million Canadian viewers overall, the specialty channel said Tuesday.
According to a release from Bell Media, Discovery Channel was the top Canadian non-sports specialty network across all Shark Week premiere time slots for viewers 18-49 and 25-54, according to numbers from BBM Canada.
Shark Week's Impossible Shot, which ran Aug. 12 to 17, follows Andy Casagrande and his team heading to South Africa to get a never-before-seen view of a Great White leaping vertically out of the water. It was the number one program during the week with 357,000 viewers.
The program, which was also the number two Shark Week premiere telecast ever in the 18-49 demo, according to the release, will be broadcast again Sept. 3.
On the social media side, Discovery reported that 79% of users commented on Shark Week facts, videos, photos and links on Facebook and through Twitter via the channel's mobile platform.
Photo: Great White Shark breaches on the seal. Sled ridden by Jeff Kurr, as seen in Air Jaw Apocalypse. Photographer: Chris Fallows, courtesy Discovery Channel
From Playback Daily