MTS pulls teens into an online love story
Manitoba Telecom Services wants teens to fall in love with its phone services through a Facebook video that pulls in content from users' feeds.
Manitoba Telecom Services (MTS) wants teens to fall in love - with its phone services that is.
Highlighting the brand's ability to connect youth socially, Vancouver-based Dare and MTS are releasing a Facebook video that pulls in content from users' feeds.
The video, using Facebook Connect, tells the story of a boy chasing a girl to a party, and switches perspectives whether the user is male or female, explains Rob Sweetman, ECD, Dare. The two-and-a-half-minute film asks 14- to 20-year-olds to log into their accounts and turn on their webcams, placing the viewer into the story through surface reflections (like mirrors or TV screens), while people at a fictional party interact with the user's actual Facebook Timeline. The object of affection will comment on a user's popular posts and images, while a text message is sent to a cellphone if the number is linked to the viewer's profile. The video finishes off by linking to the idea of staying connected with MTS's affordable data package plans.
"We hear a lot about how kids don't want to be advertised to," says Sweetman. "But if you can give them a unique experience that doesn't feel like an ad, [and] talks to them on a very personal level, we think they will respond very well to that."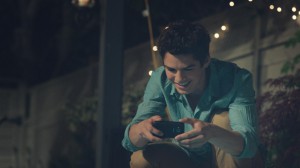 The approach differentiates creatively from the competition who are relying on "unlimited data" as their main messaging, by instead depicting the impact on their social life.
"We wanted to talk to kids about 'unlimited connections,' because that's everything at that age," he says. "[We built] a story around that [to] demonstrate the unlimited data rather than just talking about it."
The campaign, which launches mid-September, will be supported by a three-month promotional push over traditional media in Manitoba, such as TV, print and OOH (placed by Jungle Media). It will also be promoted digitally through banner ads and pre-roll, as well as  through streaming channels, such as CTV.ca.