Sportsnet expands NFL coverage
The Rogers Media brand is adding Thursday night matches and expanding ad opps around the Buffalo Bills game in Toronto this December.
Are you ready for some…more football? Rogers Media's Sportsnet is betting Canadians are going to answer that with a "yes," beefing up its NFL coverage for the 2012-2013 season.
This season's coverage includes the addition of 16 Thursday night games on Sportsnet, which launch tonight with the Green Bay Packers taking on the Chicago Bears. In addition, Rogers Media will be airing two games every Sunday starting at 4 p.m., one on Citytv and the other on Sportsnet.
TV is being accompanied by radio coverage on Sportsnet 590 The FAN and Sportsnet 960 The FAN, a 20-page NFL preview in the current issue of Sportsnet magazine and analysis on Sportsnet.ca.
Jamie Michaels, director of strategic brand integration, Rogers Media, tells MiC that the brand has also added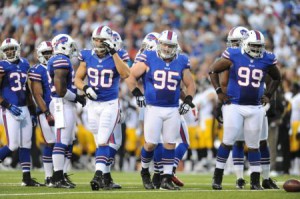 advertising and sponsorship opportunities to this year's Buffalo Bills game in Toronto, happening on Sunday Dec. 16 at the Rogers Centre.
New opportunities include the ability to buy quarters of the game with in-stadium, TV and digital activations all running concurrently, says Michaels. He adds some clients have signed on, but won't disclose exact names at this time.
"We decided to go bigger with the opportunities this year because fans are hungering for more football in Canada," he says. "It is a hugely popular sport and I think it works partly because it is multi-platform. If you are an NFL fan you are not on just one platform, you're on many at a time."
Photos: Buffalo Bills