ZoomerMedia refreshes radio websites
The New Classical 96.3 FM and New AM 740 online pages have undergone a makeover with additional ad units to target the 45-plus audience.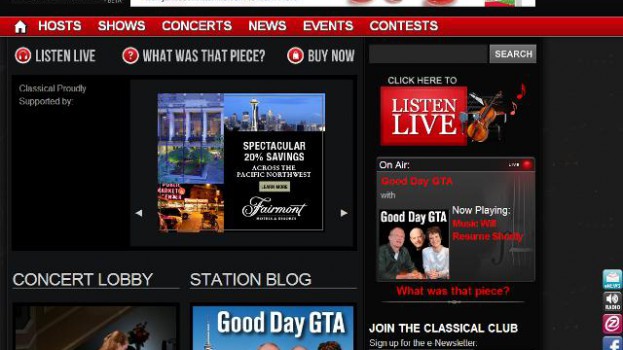 To further cater to Canada's older population, ZoomerMedia has revamped the content and design of its New Classical 96.3 FM and New AM 740 websites, and also has plans to roll out a mobile app in the next week.
"From studying our audience (the 45-plus demo) and their patterns, we wanted to make the websites simple, clear and easy to read," McLean Greaves, VP interactive division, ZoomerMedia, tells MiC of the larger font and the easier-on-the-eyes design. He notes that additional content on the sites include new video slideshows, comprehensive arts coverage and links to purchase songs that play on-air from Apple iTunes.
There are new advertising opportunities in light of the site changes, he says, such as an ad unit on the final slide of the new homepage video slideshow, audio pre-roll ads that are placed at the start of live radio streams, and the soon-to-be-launched app will come with standard banner ads. McLean notes that the app is still being approved by the iTunes App Store and he expects it to go out within the next week.
ZoomerMedia tested a beta mobile app over the past year and in that time, it received around 20,000 downloads on the iPhone and another 1,000 on Android, says McLean. "We didn't spend a ton of money on it, it was more to see what the adoption rates were like," he says, adding that the company saw mobile visits go from 2% to 10% over the course of the year.
"This is a demographic that controls a lot of wealth in this country, but is also an active one and has traditionally been ignored in favour of a younger audience," he explains. "They're the fastest growing demo on social media, far more web-savvy than people would think. So for us, it makes sense to go after that crowd and offer access of that audience to our advertisers."