The Canadian Cancer Society gets FearLess
The organization has launched a new campaign aimed at airing the fears people have around cancer.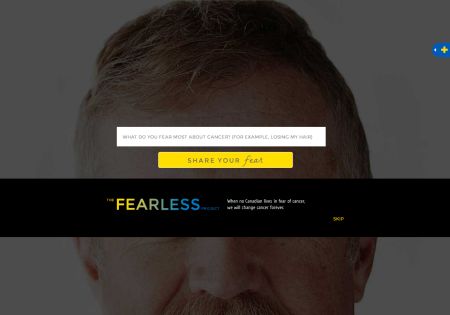 The Ontario division of the Canadian Cancer Society has launched a new campaign called "The FearLess Project," which urges people to share the fears they have around the disease.
With media by MediaCom and creative from Public Inc., the campaign will primarily be promoted online, aiming to reach a target of women aged 30 to 55 through behavioural targeting. The banner ads ask people to share their fears around cancer by posting them online at Thefearlessproject.ca, Tracey Cooke, senior strategist and creative lead at Public Inc., tells MiC.
In support of the new campaign, the society commissioned Ipsos Reid to survey Ontario residents in October about their biggest fears around cancer, with findings like the majority (70%) of Ontarians fear cancer, higher than other diseases like heart disease (59%), Alzheimer's (57%) and diabetes (41%).
The fears of Ontario residents around the disease will also be used in an OOH display on Nov. 29 at Brookfield Place in Toronto through what Cooke calls "word tree lights." The installation will feature about eight tree-like structures which will feature the fears of Ontarians around cancer clipped onto the end of the branches to bring the digital project into the real world, says Cooke.
"If you think about the [dialogue around] cancer there is a lot of wording around fight and fear," she says. "A lot of people talk about facing cancer, but coming out and having a conversation about the fears around it is very different for the organization and also for cancer communication as a whole."
The campaign, which is raising awareness of the services and programs offered by the society, also includes a Toronto Star supplement on Dec. 3, which will cover the installation, as well as stories from cancer survivors and the top five myths around cancer, says Cooke.
Ontario residents who are also Air Miles members will receive 20 bonus points for contributing to the project.