Blog: Veronica Holmes at the AAM Conference
The ZenithOptimedia president of digital checks the industry's pulse at the renamed organization's annual conference.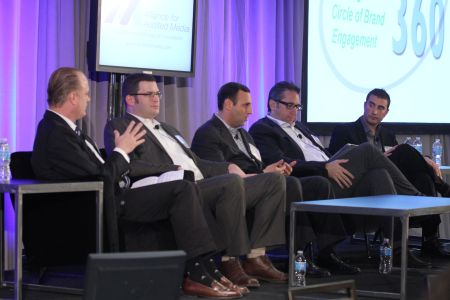 Veronica Holmes is the president of digital at ZenithOptimedia. She blogged this year's Alliance for Audited Media annual conference in New York City for MiC.
It is fitting that the AAM's (Audit Bureau of Circulations) now rebranded to the Alliance for Audited Media annual conference is being held in New York City, a hub for publishing and advertising. The room is full of the top North American publishers, agencies and advertisers, each embracing the shift to digital and excited, yet unnerved, by the challenge of disruption.
Becoming AAM
Mike Lavery, president and managing director of the AAM, opened the meeting by underlining that the core mission of the organization remains the same under the new branding. Many of the publisher members of the AAM have evolved well beyond print with websites, mobile apps, and video. Lavery noted that it's even more critical that the industry has access to trustworthy, measured data – from across platforms.
Tablets Abound
The first panel, on tablets, was moderated by Ted Boyd, CEO of One Advertising Inc. (pictured), who began by sharing that tables are projected to have an adoption rate of 47 percent by 2014.
The discussion revolved around how the tablet delivers engagement and attention. Chris Wilkes, VP, Hearst Magazines, believes the tablet is energizing the print business and changing distribution dynamics. He called for agencies and advertisers to spend more time with the devices, looking at ads and content, to increase understanding of the consumer experience. Chris suggested that many ads need to be adjusted, optimized for interaction, but that most advertisers do not do this. Rémi Racine, president, Behaviour, stated that he's disappointed when an ad doesn't reveal more information. He stressed that social interaction is critical to drive engagement.
When challenged on the question of tablets versus e-readers, Jonathan Shar, VP and GM, Barnes & Noble, said, "It's a question of what the consumer wants to do. We create amazing products for consumers who like to read."
Data and Consumers' Expectations for Privacy
The second panel was about big data.  Kerry Bianchi, senior director, Accenture, challenged big data was limited to a backwards view. Instead, she encouraged using big data to enable a future view, leveraging insights and fuelling decisions in real-time.
On the subject of privacy, panelist John Montgomery, COO, GroupM Interaction, quoted Vint Cerf's 2008 comment, "There isn't any privacy, get over it." Fellow panelist Jenny Abramson agreed, saying her company, Personal, has unlocked value by putting the consumer in control of how their data is shared.
Using Content Marketing to Expand Brands
The third panel focused on content marketing.  James Moroney, publisher of The Dallas Morning News talked about a collaboration with a local ad agency to create Speakeasy. This service does content marketing delivered via smart social media. Essentially, James says his team knows content, is resourced to do social, and this can be sold to advertisers. James emphasized the need for measurement and analysis of content marketing initiatives in order to grow advertising – "Likes are nice, sales are better."
Social Media and Your Brand
The last panel topic was on social media. Mike McGraw, founder of social agency Big Fuel, believes that most brands are not ready for a two-way dialogue with consumers. Brands "crash the party" bringing no friends and are of little value. They have to have something that is relevant, which could be a service or utility, not just a content option. Robin Fray Carey, founder, Social Media Today, positioned social as a marketing resource.  "Nothing makes more compelling content than a happy customer," Robin said.
All panelists agreed that success is achieved when the advertising or brand messaging within social platforms mimics the behaviour inside the platform. Mike said, "Social is about developing hand raisers, loyalists. Stop talking about how many sales, instead grow the audience as large as possible, get conversations started and sales will follow."  When asked for best in class examples, panelists mentioned Virgin America, Rebelmouse, Huffington Post and Delta Airlines. Robin said Delta has built a Twitter algorithm that matches your status with the airline and your social score to determine how quickly they respond to your complaint.
Creating Successful Digital Products
Luncheon speaker, Justin B. Smith, President of Atlantic Media Company delivered an excellent keynote on the future of media.  The Atlantic is a digital success story with 20 million unique monthly visitors to its website versus its 400,000 print subscribers.  Its digital efforts generate 55 percent of their total revenue and are the growth engine of the company.
Justin noted that the unlimited, 24/7 access to media platforms is rewiring reader brains – they're becoming more accustomed to snacking on content throughout the day, which alters their relationship with print.  He talked about the unbundling of media, explaining that Twitter is always on and unfinishable whereas a magazine is defined by its frequency and finishability. He contrasted the publishing schedules of the Huffington Post and The New York Times, showing that digital overwhelms the content production capabilities of traditional media.
Overall, the AAM conference was informative and enjoyable with some tangible examples of success and a list of digital innovators to explore.