Nissan builds with Habitat for Humanity
The carmaker aims to raise money for the non-profit organization this holiday season, while promoting its 2013 Sentra, Altima and Pathfinder models.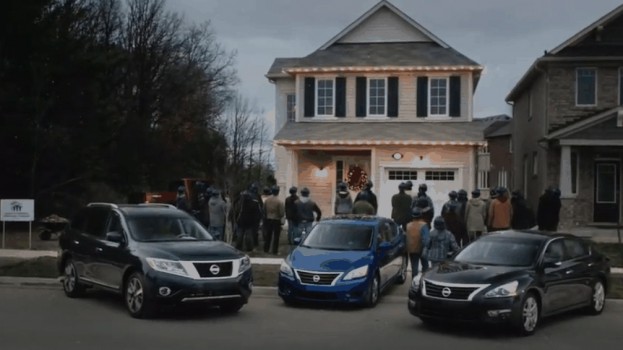 Nissan Canada and Habitat for Humanity are taking their partnership to a new level this holiday season.
The carmaker's "Gift to You" campaign aims to get consumers behind the wheels of its 2013 Sentra, Altima or Pathfinder models through special offers such as three-month payment holidays, while raising money for the non-profit organization, which builds homes for low-income families.
The campaign, with media by OMD and creative from TBWA\Toronto, launched this week and is specific to the Canadian market.
It features print spots in the Toronto Star, the Vancouver Sun and the Calgary Herald, radio ads, and TV commercials that will appear on specialty and conventional channels, including CBC, Bravo, Sportsnet and Food Network. In the TV ads, groups of people wake up early and pile into their Nissans together to travel to a Habitat for Humanity build.
Social media and point of sale also have a role to play. Nissan will donate $5 for every Facebook like its page receives, and will donate $20 every time someone test drives one of its vehicles.
According to Jason Legere, senior manager, regional advertising, sponsorships & events at Nissan Canada, the campaign targets a broad audience. He tells MiC that vehicles such as the Sentra tend to appeal to younger drivers, while the Altima and Pathfinder reach a slightly older demographic.
Nissan has donated money to Habitat for Humanity and participated in builds since the two partnered more than five years ago. But Legere says this campaign is a first for the carmaker, because it focuses more on promoting the features of the three Nissan models and raising awareness for Habitat for Humanity than driving sales.
Nissan and Habitat for Humanity hope to raise $550,000 through the campaign.
The "Gift to You" campaign ends Christmas Eve.