2012 year in review: OMD
Cathy Collier and Shane Cameron on the best campaigns and biggest innovations in media, as well as trends in the industry.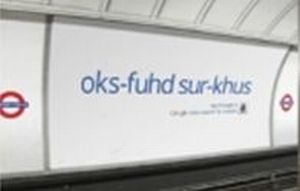 As 2012 comes to a close, MiC has reached out to industry members who were involved in judging media award shows both domestically (Media Agency of the Year, MIAs) and abroad (Cannes) to ask their thoughts on the best work from the past year, as well as the biggest organizational shifts in the industry and trends moving into next year.
First up is Cathy Collier, CEO, OMD who answered with the help of Shane Cameron, managing director, digital and emerging media.
Creative execution of 2012:
Collier, Cameron:  Cannes Media Grand Prix  winner "Google Voice Search" by Manning Gottlieb OMD in London. The campaign used Google Maps to locate every OOH posting location in the city, as well as the popular attractions around it, and create 150 different pieces of creative detailing interesting locations nearby spelled out phonetically to promote Google Voice Search.
Organizational media changes of the year:
Collier, Cameron:
- Audience buying/marketing as opposed to estimated audience buying will trigger a series of changes  (all screens becoming digitally delivered will expedite this): Media agencies will play a bigger role in the defining of target segments and audience discovery. Media rates will always be important, but will move further to the background and advertisers will be more interested in who and when. Insights, consultation on the consumer path, and overall volume driving investment management will become the norm. Audience buying platforms that are evolving from exchanges will be the backbone of much of this transformation.
- More extensive staffing and investment in: Research and analysis expertise, as well as strategic, creative and editorial (SEO and social channel management) talent. Digital understanding moves from being a department to a must-have across the organization. PR-type skills appear within all aspects of media planning.
Trends in the media industry moving into 2013:
Collier, Cameron:
- Super platforms and their cloud-enabled ecosystems: Apple, Microsoft, Google and Amazon are in a unique position with owning hardware, content, entertainment and OS from start to finish of the delivery model.  This will create some never-before-seen considerations in the planning process that will have to be worked within in 2013 and beyond.
- Better, more usable data: The cloud and people accessing entertainment from that cloud creates another thread of massive data to consider.  Harnessing it, combining it with CRM data, third party research, industry trends, etc. is easier said than done. An emerging set of brands/platforms will come into market to help provide solutions to advertisers who are discovering that building something proprietary has a price tag deep into the millions.
- Connected TVs:  Smart TVs and TVs connected to the net through external devices such as gaming consoles will exist in nearly half of Canadian households.  The delivery system moving from broadcast to broadband is well on its way and the entertainment and advertising model will shift with this.
-  RTB transforms into Audience Buying: and the whole universe of media changes overnight!