The Verdict: Tourism Calgary tweets haute couture
The tourism board used a social media-exclusive campaign culminating in a Twitter-inspired dress to raise the city's profile as a fashion destination.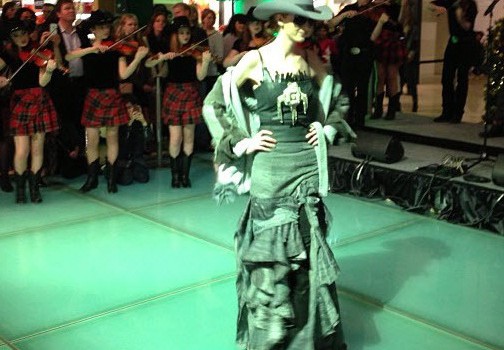 Courtesy of a partnership with Calgary-based fashion designer  Paul Hardy, Tourism Calgary looked to attract visitors in time for the city's shopping peak with a recent campaign aimed at raising its profile as a fashion and retail destination.
With a social media platform by Vancouver-based Village&Co. that harnessed Twitter, Facebook, Pinterest and Instagram and a dress created by Hardy himself, the campaign was promoted through PR and events and called on Calgarians to tweet the tourism board with the hashtag "#StyleYCC" and share their ideas on what best represented the city's fashion identity.
The dress was then created using the most popular keywords and themes, which included words like leather, layering and seasons, was unveiled Nov. 28 at the Core shopping centre.
The "Tweet Dress" campaign was Tourism Calgary's second social media-only initiative. Gisele Danis, VP marketing, Tourism Calgary, tells MiC that it's also the first time the tourism board targeted a specific demographic, in this case, women aged 18 to 34 who live within a day's trip of the city.
She says that the campaign, which launched Oct. 20 at Paul Hardy's 10th anniversary show and ran for six weeks, was a departure from the typical travel and tourism messaging, in that its goal was to attract visits for the purpose of shopping and fashion. She adds that for this reason, there were no promotions showing off the usual tourism imagery of scenic skylines and big attractions.
Justin Young, creative director, Village&Co., says the media strategy was shaped based on the insight that social media is both a key part of people planning and booking travel, and an active channel for people to discuss fashion.
He adds that it was also important to give consumers an interactive campaign with content that would last beyond its duration.
According to TweetReach data, the campaign received hundreds of tweets. It also earned 900,000 Twitter impressions and reached almost 200,000 Twitter accounts.
The tweet couture dress continues to tour shopping centres across Calgary.