Big Brother Canada previews its digital side
Shaw Media will launch an interactive platform that gives Canadians the ability to control the outcome of the show.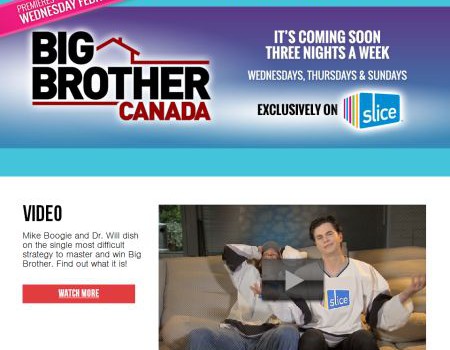 Big Brother Canada launches on Slice on Feb. 27 at 9 p.m., and Shaw Media is slowly rolling out hints as to what Canadians can expect from the first version of the franchise to be located north of the border.
The media co announced the launch of its online Big Brother Canada Power Play game, created with Toronto-based Secret Location and Insight Productions, which will give viewers the chance to play along with the show each week.
Online fans will be asked for predictions on who will win the Head of Household and Power of Veto competitions, who will be put on the block and who will be evicted. The more each fan participates in the show the more points they accumulate and the more potential they have to win prizes and gain power to shape what's happening on the air.
"Big Brother is a really interesting show because it is within a small range of shows which are actually shooting at the same time they are being aired," James Milward, founder and executive producer, Secret Location, tells MiC. "With this show we can create mechanisms where fans can follow along and affect the narrative in real time as opposed to the presumption of affecting the narrative."
In addition to the online game, Big Brother Canada's site will also include a 24/7 live feed, which launches immediately following the premiere on Feb. 27. Milward says the fact that the feed is free sets Big Brother Canada apart from other editions, where online viewers have to pay for the digital content.
Shaw Media representatives say there are sponsorship opps open across all platforms for the show, which is targeting Canadians aged 18 to 49 with a bull's eye of 30.
Big Brother Canada will air three times a week, on Wednesdays at 9 p.m., Thursdays at 10 p.m. and Sundays at 9 p.m., with live evictions happening every Thursday. Big Brother Canada After Dark, a live uncut and uncensored feed directly from the house starts on Wednesday Feb. 27 and airs seven days a week from 2 a.m. to 5 a.m. on Slice.