Spotted! The Walking Dead's gruesome countdown
A new installation by Leo Burnett promoting the AMC show's winter premiere gives passersby a chance to win a lopped off finger or get their photo taken with a zombie.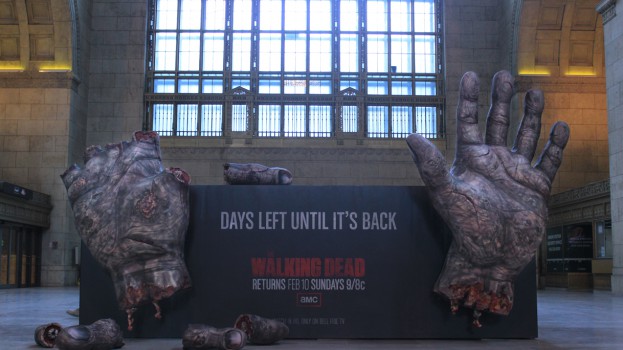 Commuters passing through Toronto's Union Station this week might be in for a nastily awesome surprise. AMC's The Walking Dead and Toronto agency Leo Burnett have launched a different kind of countdown clock to promote the winter premiere date. Each day, counting down to the Feb. 10 premiere, a finger is lopped off a decaying eight-foot tall hands.
"This is a show that has a great loyal fan base and they're all counting it down," Dom Caruso, president and COO of Leo Burnett, tells MiC. "We really looked at that as our inspiration to say, 'What would be a cool way to do a countdown?'"
The campaign officially kicks off today and runs through until Feb. 10, targeting a broad audience, says Caruso. It is designed to heighten excitement from both loyal fans, but also encourage people who haven't seen the show to take a gander. "We're hoping that through the talk-value we can generate, we can continue to expand the audience for the show."
Commuters are encouraged to snap a photo with the hands and tweet it to #TWDFeb10 for a chance to win one of the lopped off fingers. "Somebody who is a Walking Dead fan would love one of these fingers," Caruso says. "They're awesome [and] gross."
And those in the station between 2 and 7 p.m. today can also interact with a hoard of "walkers," (the show's term for zombies), who will be chained up to the countdown clock. "We're going to have Walking Dead t-shirts, which will be almost within arms reach of our zombies. The chain – fortunately – is tethered to the right length so [people] should be able to grab a shirt without getting bitten."