Contiki launches YouTube-centric contest
The holiday company is putting its largest Canadian media spend behind a new contest aimed at reaching its target demo online.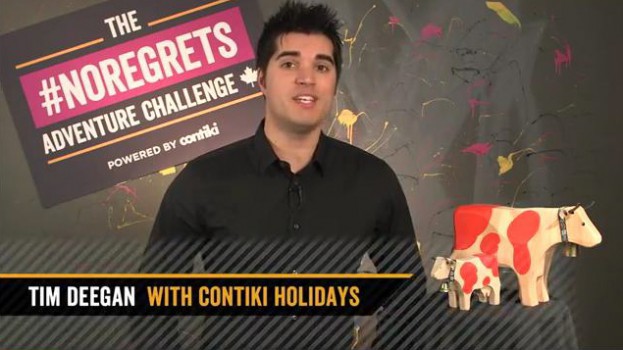 Contiki Holidays has launched the #NoRegrets Adventure Challenge contest, its largest media campaign in Canada to date, aimed at reaching its target demo of Canadians aged 18 to 35.
The contest is focused around an eight-week set of YouTube videos, produced by ApprenticeA Productions and hosted by former MuchMusic VJ Tim Deegan, which follow popular video bloggers like Nadine Sykora on Contiki trips and then ask viewers to send in answers to questions about what is happening in the clips, Lauren Howard, marketing manager, Contiki Holidays, tells MiC. There will be a new video and contest uploaded each week, with weekly prizes. Fans who enter the contest every week will be entered to win the grand prize of a trip for two to Europe plus airfare.
A digital campaign promoting the contest, with media by Toronto-based Spoke Agency and creative done in house at Contiki, will appear on websites in the Gorilla Nation and Acuity Ad networks, as well as with ads on Facebook and Twitter and on publishers like MTV and Songza.
"We used a digital facing media strategy because that is where our target is living right now," says Howard. "We found that youth want recommendations from their friends and social media. They go there first to get information on where to travel next before they look through any brochures or corporate marketing."
Howard adds that the contest is also different for the brand because it is focusing on its global slate of offerings all at once rather than its typical approach of one part of the world at a time.
"Our focus now is on the adventure experiences that Contiki has within its destinations. We found that through our research, the demographic we are aiming for is really interested in adventure travel," she says. "They have moved away from traditional all-inclusives and want to experience adventure."