Tonight goes mobile
The smartphone and tablet app for the commuter newspaper will offer readers multiple daily breaking news updates.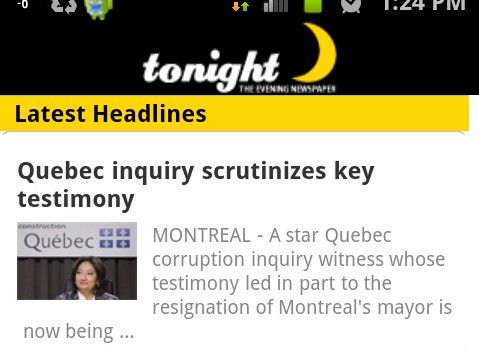 Commuter newspaper tonight, which was recently purchased by Annex Business Media, has gotten into the mobile game, announcing the launch of Android and iPhone apps for both smartphones and tablets.
The publication's print version will continue to publish every Tuesday and Thursday evening (it made the switch from weekly publication on Jan. 22 to meet advertiser demand), while the app, designed by San Francisco-based GenWi, will provide readers with breaking news and daily stories from the Canadian Press and Associated Press, and will host tonight's features. The app will also allow readers to send and respond to Shout Outs, the newspaper's "social media" platform, at any time.
John Cameron, publisher, tonight, tells MiC that the launch of the mobile app was a "no brainer" for the publication given that a large segment of its digital traffic, 25% according to Google Analytics from January, is already coming from mobile devices.
He adds that the app will allow tonight to better reach its core audience of adults 18 to 49 who earn an average income of $86,000, by giving them content multiple times throughout the day that can be accessed whenever and wherever readers want it.
Cameron says that while there are no sponsorships specific to the launch of the app, tonight is looking to add sponsors in the future.
The mobile app will offer a variety of ad opportunities, including banners, front-page takeovers and advertorial content. Cameron says that ad buys will be packaged as well to offer brands ad space in both the print and digital properties.