Target joins the neighbourhood
The big box retailer is debuting its official launch campaign Sunday evening during the broadcasts of the Oscars and La Voix.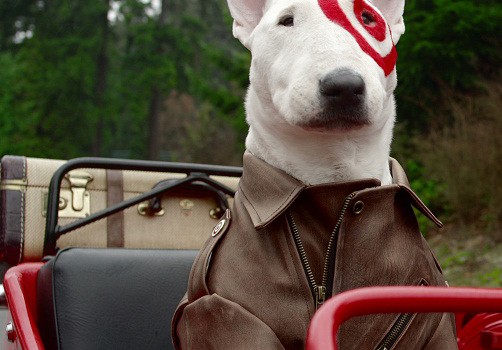 It's been a busy year for Target, as it prepares for its March 2013 opening in Canada. This weekend, the brand is kicking off its arrival in Canadian neighbourhoods in award-winning style, with the debut of its official launch media campaign.
Primarily targeting women aged 18 to 54, its first TV spot will air Sunday evening during the Academy Awards on CTV. The Quebec spot, meanwhile, will premiere during the broadcast of La Voix on TVA.
With media by Carat, and creative by KBS+P, the campaign will rely heavily on TV spots that will roll out on conventional regional TV channels in different markets across Canada to coincide with store openings. Following the debut at the Oscars, the campaign's first run will be in Ontario. The TV buy will be supported by OOH in major markets, print spots in regional publications and digital takeovers on sites such as MSN.ca and Yahoo.ca.
The TV spots star Bullseye the Target dog, and follow him as he travels across the country and takes in iconic sites while a reworked version (done by Canada's Dragonette) of the theme song to Mister Rogers' Neighbourhood plays. Print and OOH spots, meanwhile, are customized for each province and territory, and feature recognizable landmarks and the tagline "Can't wait to meet you neighbour."
Social media will also play a large part in the campaign, as Target is hosting a Twitter party to coincide with the Oscars, during which it will ask followers questions and interact with them.
Livia Zufferli, director of marketing, Target Canada, tells MiC that the campaign aims to introduce the brand as a new neighbour for Canadians. A media buy with the Oscars and La Voix was a good fit, she adds, because it offered the brand high visibility, as well as an opportunity to put itself at the centre of the social media discussion surrounding the shows.
Target first introduced itself to Canadians in February 2012, with a one-day pop up shop that drew in more than 1,500 visitors. The brand then hosted sponsored beach days across the country and further promoted itself with a hotel takeover during the Toronto International Film Festival. Target ended 2012 with a Holiday Road Trip, driving a branded tour bus across Canada.
"There's a strong awareness of Target in Canada. But we wanted folks to tangibly experience the brand and understand what makes Target different, [so] we focused on experiential activations in 2012 because we didn't have stores to drive folks to," says Zufferli.
She adds that the launch campaign will run throughout 2013 as 124 Target stores open, with other initiatives that feature stronger calls to action expected to roll out alongside it.