Spotted! Jack the Giant Slayer makes its mark
Warner Bros. Canada promoted the upcoming release of the movie with an experiential stunt at Playdium in Mississauga.
Warner Bros. Canada left marks from the giant in Jack the Giant Slayer around Mississauga's Playdium this weekend to promote this Friday's release of the film.
Aimed at reaching the 8,000 to 10,000 visitors per week that come through the arcade, the company worked with its media company OMD and Juxta Inc. to create a scene straight out the movie complete with large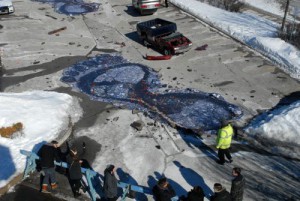 footprints, police tape and emergency vehicles, according to a Warner Bros. Canada representative.
In addition to the OOH execution, Warner Bros. had posters and trailers screening on walls and screens inside Playdium and handed out gifts to kids who came to the approximately 120 parties that were held at the arcade over the weekend, according to a representative. On Saturday the movie company handed out free three-hour playcards to the first 300 kids who came through the doors.