Bite TV gets brand overhaul
The Blue Ant Media property is repositioning itself to better reflect its male 18-to-49 demo, and is kicking off its rebrand with sponsor Kijiji.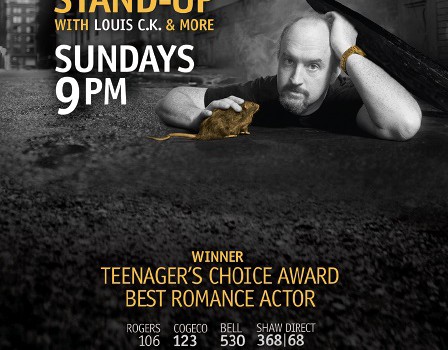 Blue Ant Media-owned Bite TV unveiled a rebranded on-air and online look Thursday that aims to reposition it to better reflect its viewer base of men aged 18 to 49.
With a new logo that has a typewriter feel, and yellow and purple as its two new core colours, Jennifer Mason, director of marketing and communications, Blue Ant Media, tells MiC that the comedy channel's brand makeover was also meant to coincide with a recently introduced free preview in Western Canada.
Bite TV has launched its rebrand with Kijiji as its sponsor, working with the classifieds site to produce several on-air spots. The channel is also offering advertisers customized ad platforms that include TV, digital and branded content opportunities.
To support the brand overhaul, Bite has launched a national campaign that focuses on its comedic offerings, including stand up, series and movies. The campaign features TTC subway car dominations and platform posters, as well as print ads in Metro in Toronto, Calgary and Vancouver. Radio spots will appear on Sirius XM's Laugh Attack channel, while Bite's digital strategy will include sponsored posts on Buzzfeed, targeted Facebook ads and YouTube pre-roll.
Mason says the campaign strategy was built on the insight that many men in the channel's target demo commute regularly and spend a lot of time online.