CraveOnline introduces 3D mobile cube unit
The new ad platform features six customizable faces, and is launching with a campaign by PepsiCo.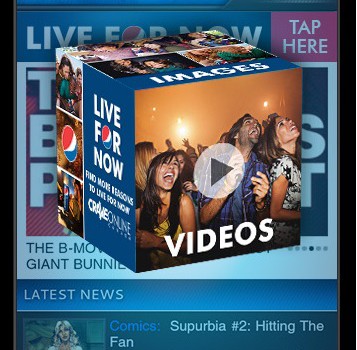 CraveOnline Canada has announced the official launch of its latest ad unit for smartphones and tablets.
The content hub, which is part of Evolve Media's portfolio and targets men aged 18 to 34, will now offer advertisers an interactive 3D mobile cube platform.
Launching with a campaign by PepsiCo, the 3D cube is triggered and floats on-screen when users click on the branded banner in the mobile site's environment. Each of the unit's six faces can be customized to include different types of content or functions, including videos, photos and links to social media, contests and editorial.
Walder Amaya, SVP, Canadian and international operations, Evolve Media, tells MiC that the 3D mobile cube will offer advertisers greater audience engagement than traditional mobile ad units because it allows consumers to interact with brands in multiple ways through a single touchpoint.
The 3D mobile cube joins CraveOnline Canada's other mobile ad offerings, which include banners, video overlays and dynamic countdown units, as well as custom sponsorship opportunities.
Amaya says CraveOnline Canada will also be launching a similar 3D cube for its online portal later in 2013.