Spotted! Mazda puts moviegoers in the driver's seat
The car co has launched a Mazda 6 Virtual Test Drive at Cineplex theatres in Quebec.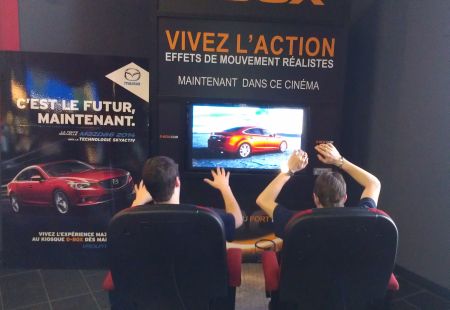 Mazda is putting Quebec moviegoers in the driver's seat by launching the Mazda 6 Virtual Test Drive at six Cineplex theatre locations across the province.
With media by Excelerator Media (a division of Mindshare Canada) and creative from JWT, the execution uses Cineplex's motion activated D-Box preview kiosks, which usually show movie trailers, to show a 30-second interactive commercial for the Mazda 6.
The activation gives the brand's target audience of 25- to 54-year-olds a chance to feel like they are test driving the car without leaving the theatre, Paula Carolan, managing director, client leadership at Mindshare Canada, tells MiC.
"It gives them the experience of driving in a Mazda 6, we are putting the consumer nose-to-wheel without having to go to the dealership," she says. "People in Quebec have always been very responsive to the Mazda brand. We thought what better way to showcase the technology than to give them the opportunity to virtually test drive it?"
Carolan says the brand would like to roll the D-box execution out nationally eventually, with plans for additional executions within the year.