Spotted! Medicine Hat's monster surprise
The Medicine Hat Accommodation Association's campaign features a series of social media-driven events, including a contest to win a ride to school in a monster truck.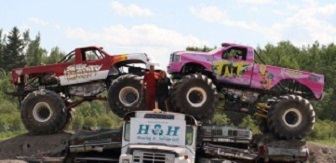 As part of its new social awareness campaign, the Medicine Hat Accommodation Association (MHAA), a collective of hotels that works to drive tourism in the city, has a surprise of monstrous proportions planned for one kid living in the Medicine Hat, Alberta vicinity.
Targeting parents of children aged six to 12, and working with agency Village&Co., the MHAA recently launched a social media-driven contest, which urged parents to tweet the hashtag #monstercarpool and enter their kids into a draw to win a ride to school in a monster truck driven by members of the local monster truck team, Sheer Insanity.
The social media stunt is the first in a series of planned events, all of which are aimed at highlighting what Medicine Hat has to offer and raising the city's profile as a place to visit.
Justin Young, creative director, Village&Co., tells MiC that launching the campaign with the Sheer Insanity monster truck team was a good fit because it allowed the MHAA to leverage its popularity in the city to build buzz and draw attention to upcoming content.
In the two weeks it was open, the contest garnered about 100 entries. The winner will be surprised on April 15.
On May 3, the MHAA and Village&Co. will be hosting a one-day Instagram art gallery. Consumers will be urged to enter and tag their own photos, and the 15 photos that gain the most "likes" will be mounted and featured in the gallery.