Plan Canada spells out its cause
The organization is supporting its "Because I am a Girl" initiative with TV spots and its first-ever buy on GO Transit.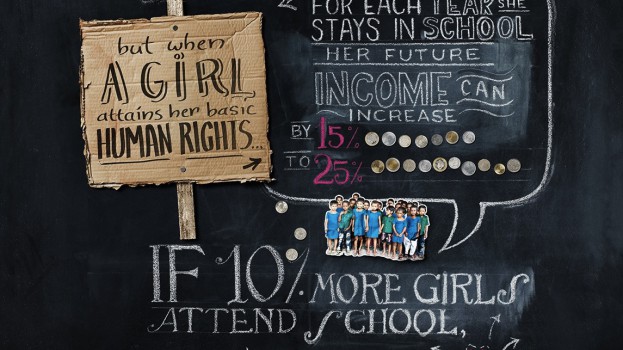 Plan Canada is looking to raise awareness and drive donations with a new brand campaign for its "Because I am a Girl" initiative.
With media and creative by One Advertising and digital support from ABER, the campaign targets professional women above the age of 35 and is running primarily on national TV on conventional and specialty channels including CBC, CTV, W Network and HGTV.
The creative consists of infographics drawn on chalkboards that highlight the global reality of poverty for girls with lines like "70% of the world's poorest are women," and contrasts this with more hopeful messages like "For each year she stays in school her future income can increase by 15% to 25%," to show how donations can help.
The campaign is supported by OOH buys in Toronto, Montreal and Vancouver, with posters in TTC subway stations and on GO Transit vehicles, print ads in Toronto Life, Canadian Living and Chatelaine, and through digital ads on social networking sites.
Aileen Grant, media director, One Advertising, tells MiC that this is the first time Plan Canada has implemented GO Transit ads into its "Because I am a Girl" campaigns. She says the organization included GO in its mix due to the growth of traffic in the GTA, and based on the insight that many professional women take the GO train, but don't necessarily ride the subway.
The campaign will run until the end of May.