Pizza Hut introduces five new flavours
The Yum! Brands QSR is introducing flavours like cheesy beef poutine and smokey maple bacon with a TV-heavy campaign featuring a tough hockey granny.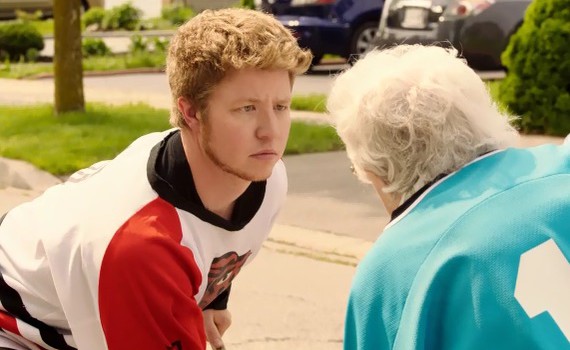 Pizza Hut Canada is adding a change of pace to its menu with a campaign to promote its lineup of five new pizzas, including cheesy beef poutine, creamy butter chicken, Asian BBQ, grilled chicken club and smokey maple bacon.
Targeting adults aged 18 to 34, the campaign features media by MediaCom, creative by Grip Limited and in-store elements by Match Ignite. It focuses primarily on TV spots, which will air across conventional and specialty channels like CBC, CTV, TSN and TVA.
Beverley D'Cruz, marketing director, Pizza Hut Canada, tells MiC that TV activations will also include appearances on City's Breakfast Television, as well as spots on channels like OMNI, to help the brand reach a more diverse audience.
The creative introduces the five new pizzas and plays up the fact that they represent the diversity of Canada. It ends with a neighbourhood game of road hockey, where a tough-as-nails grandmother picks a fight.
The TV buy is supported by digital buys on Sportsnet.ca and social media activity. D'Cruz says Pizza Hut has also added new in-store elements to launch the pizzas, such as "breakthrough days," which offer customers and passersby the opportunity to sample the new recipes.
D'Cruz says introducing the new pizzas was a way for Pizza Hut to differentiate itself from the competition while also offering menu items that leverage parts of Canadian cuisine, such as poutine and maple bacon.
She adds that Facebook was a key vehicle for promoting the launch of the pizzas because it allowed the brand to host a poll on what kinds of recipes consumers would like to see.
The pizzas and the campaign will be in market for six weeks, but D'Cruz says Pizza Hut is hoping to keep the top selling pizzas on its menu for longer.