Spotted! World Vision takes a stand against child slavery
The charity has launched a TV and digital campaign to support activations in Toronto and Vancouver, where child actors posed as labourers for sale.
World Vision Canada is urging Canadians to take a stand against child slavery in the developing world with its new "No Child for Sale" campaign, targeted primarily at women aged 25 to 55.
With media and creative handled by KBS+P and Toronto-based Real Interactive, the campaign is anchored on experiential activations, which the charity hosted yesterday in Toronto and Vancouver. The activations saw World Vision set up displays in two stores, where child actors with price tags attached to them worked on tasks like sewing or washing clothes.
The event in Toronto was held at Pam Chorley's Fashion Crimes, a store that sources its clothes locally. In Vancouver, it partnered with Crocodile Baby, a store specializing in ethically sourced baby goods whose owner was once a child labourer.
To support the "No Child for Sale" campaign, the charity has also invested in TV spots on female-targeted specialty channels like Slice and W, as well as on their digital properties. It's also relying on OOH ads in major markets like Toronto, Vancouver and Montreal, as well as Facebook and Twitter.
The TV creative spoofs The Shopping Channel, with over-enthusiastic hosts describing the features of a young boy named Kewesi.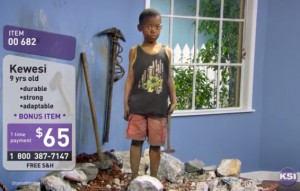 Additionally, the campaign urges Canadians to get involved by directing them to the No Child for Sale website and encouraging them to share through social media. World Vision has also launched an app, which can be used to help locate retailers with ethically sourced goods.
Caroline Riseboro, SVP, marketing and engagement, World Vision Canada, tells MiC that the campaign presented the charity with a means to reach out to Canadians and more effectively engage them by bringing the issue to life, as opposed to bombarding them with facts and figures.
She says the campaign was launched because World Vision sensed that Canadians want to help, but don't necessarily know how or they lacked awareness about the issue of child slavery.
The campaign will run for six weeks, but will continue to live online at the website.