BMO makes the 'BMOst' of summer
The bank went grassroots, throwing an urban picnic in Toronto's Yonge-Dundas Square to help promote its credit card, chequing and savings accounts.
Yesterday, the Bank of Montreal looked to help existing and potential customers make the "BMOst" of their summer by hosting a BMO Urban Picnic in Toronto's Yonge-Dundas Square.
The Urban Picnic was the culmination of BMO's broader ice cream truck tour initiative, which kicked off in June and saw two trucks make stops at about 50 BMO branches in 17 cities across Canada to promote BMO's credit card, chequing and savings accounts.
With media by Maxus, creative by Y&R and experiential by Toronto-based Free For All Marketing, the picnic was targeted at adults aged 30 to 45. The event saw BMO transform Yonge-Dundas Square into a green oasis and hand out free ice cream, as well as sliders with its partner Metro and prizes with Air Miles. The bank also offered visitors ferris wheel rides and donated $30,000 to Kids Help Phone ($1 for  every ice cream cone it handed out during the tour).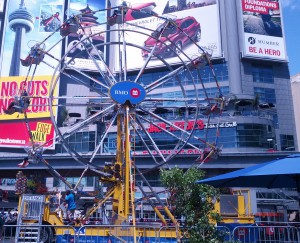 The tour and the picnic were promoted on social media using the hashtags #BMOTruck and #BMOUrbanPicnic, while the picnic received an extra push on Breakfast Television and Toronto radio station Q107.
Su McVey, VP of marketing and customer communications, P&C Bank, BMO, tells MiC that the tour and the Urban Picnic activations were both much more grassroots than is typical for BMO. She says they offered the bank an opportunity to leverage iconic elements of summer to become part of the community and help promote its individual branches at the community level.
She adds that it was also a way to promote BMO's brand message that it's devoted to creating great customer experiences and rewarding its customers.