enRoute taps people power for restaurant awards
The Air Canada magazine is expanding its Canada's Best New Restaurants awards with a campaign that encourages consumers to vote for their favourites.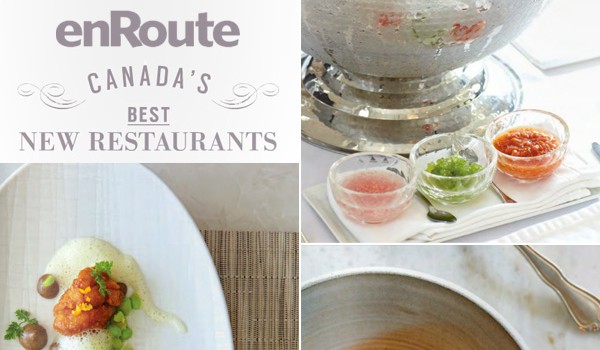 Air Canada's enRoute magazine is serving up a new marketing campaign for its renowned Canada's Best New Restaurants awards and its new People's Choice Award, launched in partnership with Jaguar Land Rover.
While for the past 12 years the magazine has let its food critics crown the top Canadian restaurants, this year it wants consumers to get in on the action by letting them vote for their favourite places to eat out of the 35 restaurants that were shortlisted.
With media by Mindshare, creative by Spafax and Land Rover's AOR Y&R and a microsite by Dynamo, the campaign is targeted at high-income consumers aged 35 to 45 and primarily leverages Air Canada and enRoute properties. Print ads will appear in enRoute alongside editorial that documents the search for the top restaurants, while video promotions will play on in-flight screens on the food and documentary channels.
The campaign is supported by digital spots on the Air Canada and enRoute websites and the nominated restaurants will also lend a hand, giving out promotional cards with customers' bills that drive to the contest microsite, Eatandvote.com. The microsite serves as both a hub for voting and a directory for the nominated restaurants, and visitors can share their favourites via Facebook and Twitter.
Rounding out the campaign is a heavy social media push and a contest. Those who vote are entered into a draw with a grand prize that includes a round trip flight for two to Toronto, a two night stay at the Thompson Hotel, use of a Jaguar or Land Rover vehicle while in Toronto and for seven days upon returning home, as well as two VIP tickets to the Canada's Best New Restaurants cocktail gala in November, where the winning restaurants will be crowned.
Ilana Weitzman, editor-in-chief, enRoute, tells MiC that launching the People's Choice Award was an ideal way for enRoute to refresh Canada's Best New Restaurants and give it greater longevity by allowing consumers to get involved and learn more about all of the nominees. She adds that making it participatory was a good fit because, like enRoute's food critics, Air Canada passengers frequently travel across the country, making new restaurant discoveries of their own.
Sonya Tsui, Canada's Best New Restaurants project manager, Spafax, says adding a People's Choice Award will also create a lot of new touchpoints and help grow Canada's Best New Restaurants, noting that promoting the contest through the nominated restaurants will raise awareness of the awards beyond the core audience of Air Canada passengers.
Voting is open until Sept. 30. The winning restaurants will be named at the end of October before being featured in the November issue of enRoute.
Photo: a compilation of winners from 2012′s Canada's Best New Restaurants awards, courtesy of enRoute