MuchMore to rebrand as M3
The Bell Media specialty is aiming to add more exclusive TV programs and distance itself from Much with a new programming strategy, name and look.
Bell Media has announced it is rebranding its MuchMore to become M3. The change will officially take place on Sept. 30 and comes after 15 years of the channel being known as MuchMore.
Justin Stockman, executive director, music and entertainment, Bell Media, tells MiC the channel, which has and will continue to target adults aged 18 to 34, will be adding more exclusive programming and series like the new royal drama Reign and mystery-thriller Ravenswood to its lineup as a result of the change. M3 also becomes the exclusive home to Pretty Little Liars, which moves over from Much
"We wanted to shake it up with some new programming, because we found with our other specialty channels that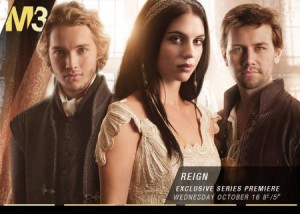 exclusives are really what brings the big numbers in for us," he says. "The MuchMore brand has always been seen as a bit of a spin off from Much, when it has always been its own thing. So we wanted to make sure it had its own identity as M3."
Stockman says the channel will be making a switch from SD to HD when it changes its identity at the end of the month, noting the new name M3 is a nod to the channel's original MuchMore Music handle.
Programming on the channel is expected to skew a bit more female, he adds, which will present a more targeted audience for advertisers. Stockman says 50% of the content on the channel will still be made up of music videos, due to its conditions of license, with all programming on the channel having some tie to music. He adds the music videos on the channel are not a problem for the target demo, who grew up sitting down with those sorts of programs.
Launching along with the channel's new look is its new online home, M3tv.ca, which will feature the channel's schedule, music video premieres, programmed playlists as well as music and entertainment news.