Responsible Gaming Council spots the problem
The organization has launched its first mass media campaign to support Problem Gambling Prevention Week, with print ads, radio spots and a microsite.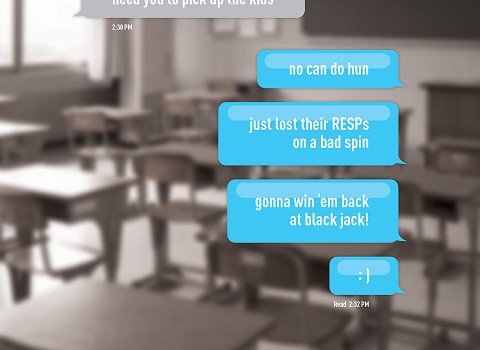 Ontario's Responsible Gaming Council has launched a new campaign to raise awareness about the dangers of gambling addiction as it rolls out its Problem Gambling Prevention Week initiative, a program that offers one-on-one educational events in communities near casinos, horse racing tracks and other betting establishments.
With media by ZenithOptimedia and creative by Red Lion, the campaign is targeted primarily at adults above the age of 45 and is focused on communities in the GTA, as well as Ontario cities like London and Thunder Bay. It relies on an even mix of print spots and advertorials in local papers and larger publications like the Toronto Star and 24hrs, OOH and radio spots on Chum FM, Virgin 99.9 and 680 News.
The print ads feature the tagline "It's never this easy to spot a gambling problem," and depict a conversation between a couple during which one parent admits to being unable to pick up the kids because he or she is busy trying to win back lost savings.
The campaign is supported by a microsite with information and resources for those dealing with problem gambling, as well as two online-only videos.
Kevin Noel, COO, Responsible Gaming Council, tells MiC that this is the first mass multi-media campaign the Responsible Gaming Council has launched in support of its Problem Gambling Prevention Week initiative. He says the campaign relies more heavily on digital than other campaigns by the Council, adding that it was important to have a platform that would allow for deeper content and encourage sharing as the Council looks to roll out the program to more people.
Noel says this campaign is part of the broader media strategy for the Responsible Gaming Council, which also includes a larger youth-targeted campaign that will roll out later this year. He adds that the current campaign boasts a slightly smaller media spend because the youth campaign will be a province-wide mass media initiative.
The Problem Gambling Prevention Week campaign will run from September to November, and will be reused next year when the program starts up again.