Air France Canada gets set for takeoff
The airline's latest campaign and contest leverages an experiential activation for the first time, offering entrants a trip to Paris if they check in at Toronto's David Pecaut Square.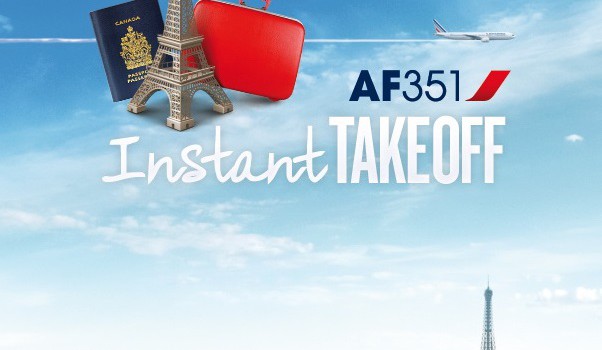 Air France KLM Canada is looking to get a pair of lucky passengers onboard a flight to Paris with the launch of a new campaign and its AF351 Instant Takeoff contest.
To enter, consumers can visit the contest microsite and sign up themselves and one companion to receive their "boarding passes." The catch? They must then "check in" at Toronto's David Pecaut Square on Oct. 24 with their luggage and passports ready, where the winners' names will be randomly drawn.
From there, the winners will be whisked off in an Air France car to Pearson International, where they'll officially check in for their flights and relax in the Air France KLM airport lounge before taking off aboard flight AF351 that evening for a four-day stay in Paris at the Best Western Folkestone Opéra.
The contest, which is aimed at adults aged 25 to 45, is supported by promoted posts on Facebook, and social outreach through travel bloggers. Media planning and the experiential event were planned by Air France's internal marketing team, with additional creative from Bleublancrouge.
Fabien Pelous, VP and general manager, Air France KLM Canada, tells MiC that the contest is the first of its kind for the brand, which has traditionally offered tickets as prizes at fundraisers or run Facebook-only contests where entrants register online and redeem their tickets at a later date.
He says that the campaign is part of Air France's broader strategy to better position the brand in Ontario by driving greater awareness of AF351, its daily nonstop flight to Paris.
The contest is open until Oct. 18, with the winners being randomly selected at 1 p.m. on Oct. 24
Pelous says Air France has separate plans to help position the brand in Ontario as a sponsor of World MasterCard Fashion Week, which runs in David Pecaut Square from Oct. 21 to 26. He adds that more details on its sponsorship activations will be revealed as the event draws near.