Spotted! Air France brings Paris metro to Montreal
The airline is making transit users in the city do a double-take with its latest execution.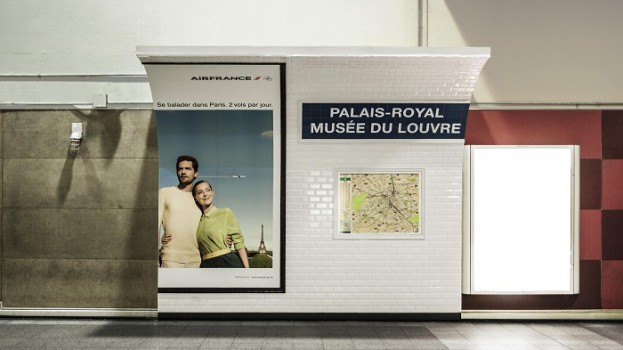 Air France is bringing a piece of Paris to Montreal with a new OOH execution in the Montreal métro.
With media handled in-house, creative from Montreal-based Bleublancrouge and production from Cogeco Métromédia, the airline recreated a piece of the Paris métro, complete with a curved wall, a map and real ceramic tiles, on the platform at Berri-UQAM station.
"The exhibit is positioned right in front of two doors," Diane Audet, communications manager, Air France Canada, tells MiC. "If you're reading your newspaper and you're coming out of the metro you think, 'Where am I?' We saw one guy, for instance, looking for his way … realizing, 'Ah, this is not a Montreal map.'"
The execution is part of what Fabien Pelous, VP and general manager for Canada, Air France, calls a three dimensional media strategy targeting Montreal's young professionals aged 25 to 40. Other supporting components running from late September through November include print buys in Le Devoir, La Presse, Les Affaires and The Gazette, back-of-bus ads on 16 Montreal buses and a four-week superboard buy on Bonaventure highway.
Over the past two years, Pelous adds, Air France has handed out blankets at outdoor screenings at Le Festival du nouveau cinéma de Montréal and flown French artists to the Osheaga music festival, all part of an effort to refresh the brand with experiential activations that get closer to the public, and the Paris métro execution is an extension of that strategy.
The activation at Berri-UQAM station runs until Dec. 22.