The Verdict: Air France builds buzz in Ontario with experiential
The airline's Instant Takeoff execution drew 5,500 entrants, with 300 people showing up for the possibility of claiming the free flights in Toronto.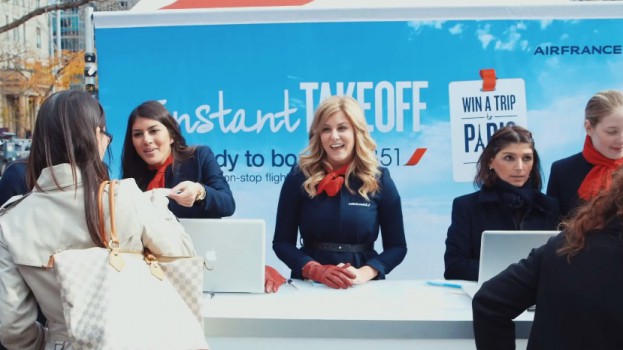 With the success of a its recent Instant Takeoff activation in Toronto this October, Air France KLM Canada has moved a step closer to its goal of increasing its market share and visibility in Ontario, where the airline is a small player in a crowded market.
Air France offered customers the chance to win a flight and four day stay in Paris, but the catch was that contestants had to be packed and ready to fly immediately the moment the winners were selected. With media handled in house and creative by Bleublancrouge, Air France set up a pavilion downtown at David Pecaut Square where would-be travellers checked in with their luggage and passports, ready to depart. The contest was promoted through social media and a microsite.
The execution was part of an experiential strategy from Air France designed to get the brand closer to customers and to engage them more personally. Fabien Pelous, VP and general manager, Air France KLM Canada, tells MiC as a smaller airline offering only one flight per day, the cost of a media buy in Toronto is prohibitive. The brand needed to find a way to reach Ontario consumers in a more meaningful way, says Pelous, and the Instant Takeoff contest and the buzz it would generate was deemed the right way to engage them.
"There is a risk in this type of operation," says Pelous. "When you buy three weeks of media advertising, then you know more or less the return on investment, but with this kind of operation you try to create buzz before, you try to create an event that will appeal to the community locally, and you bet on what will happen after."
Pelous says the bet paid off. More than 5,500 entrants registered for the contest online at the Af351.ca microsite before the Oct. 18 cutoff, effectively reaching 11,000 people when you account for travel companions. The draw brought a crowd of 600 people to David Pecaut Square on Oct. 24, as 300 entrants checked in on the day of the contest with their companions. When so many people showed up, Air France surprised contestants and announced they would be drawing two winners. Since the winners were selected, a video documenting the event has been viewed more than 40,000 times on YouTube.
"Our conclusion is that experiential marketing works," Pelous says. "We will keep this dual approach, keep one part of our budget on classic media buys and one part on sponsorship or experiential marketing."