Spotted! The Great Martian War invades Toronto
An alien-inspired projection wall promoted the History channel's original Canadian film and a companion app around Toronto last night.
In homage to Orson Welles' War of the Worlds, Shaw Media tried to invoke the feeling of an alien invasion in Toronto with Martian-inspired wall projections around Toronto last night to promote tonight's premiere of  The Great Martian War at 9 p.m. on History and the companion smartphone app.
Displayed in 14 high-traffic areas around the city, like Front and Spadina Ave. and 276 King St. West, the execution, done in-house at Shaw Media showcased the show's logo appearing as if it had been blasted by through the brick by aliens and bathed in green rays of light.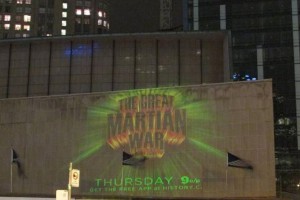 The original Canadian film is an allegorical tale that re-imagines the years of the First World War as a period in time when Europe was invaded by devastating, monstrous war machines from Mars.
The app, developed by Secret Location for iOS, Android and Kindle Fire, extends the world of the film into a game. Users play as Canadian soldier Gus Lafonde, one of the lead characters from the film, and steer him through stealth missions. New content will be made available on a weekly or bi-monthly basis, with players given the option of purchasing in-game power-ups for prices ranging from $0.99 to $49.99.