Leveraging real Christmas joy: MiC's Holiday Tour
Denneboom's Leslie Krueger, UM's Shelley Smit and Maxus Canada's Ann Stewart on Christmas activations from WestJet, Sainsbury's and the Portable North Pole.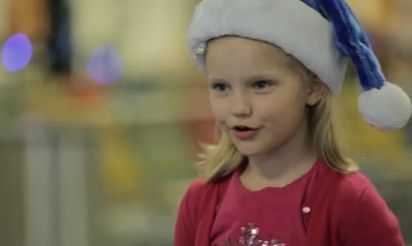 Around the holidays, many brands try to tap into the sentimentality of the season to share some Christmas joy. MiC has rounded up some of the best festive action and asked Leslie Krueger, VP marketing/media, Denneboom; Shelley Smit, president, UM; and Ann Stewart, president, Maxus Canada to weigh in on the activations.
Our round up starts with WestJet promoting itself as the airline that cares with a surprise giveaway for passengers. From there, we go to the UK where grocery chain Sainsbury's has cobbled together user-generated Christmas moments into a 48-minute feel-good film. We end our tour back home where Montreal-based UGroupMedia helps users get a personalized message from Santa with their app Portable North Pole.
Canada: WestJet surprises passengers with Christmas miracle
WestJet set up a gift box console in the airport terminal that let customers tell Santa what they wanted for Christmas before the plane took off. Little did the passengers know that their Christmas wishes would be granted and the gifts would be waiting for them when they landed.
Krueger: Brought tears to my eyes. Maybe the tears were for the display of emotive Christmas joy or maybe because I booked my Christmas flights on Air Canada. Regardless, this is a brilliant example of corporate communications and viral marketing.  The 28 million views and counting could make this the water-cooler video of the season.
Smit: Who doesn't like this?  It's a great experience for those on the flight as well as for those of us watching from afar. It's sweet, raw and a bit magical. I couldn't help feel a bit bad for the guy who asked for socks and underwear. A reminder to us all to always dream big.
Stewart: This is a great example of the future of media and technology coming together. This was executed with all the right elements of engagement, surprise and delight, in real time. Also wonderful that it brought together relevant partners and made for a feel-good lasting moment.
UK: Sainsbury's Christmas in a Day
In the vein of YouTube's Life in a Day, UK grocer Sainsbury's sponsored a crowd-sourced 48-minute film of genuine Christmas moments (watch the trailer below and see the full-length film here). Real people shared little moments – some funny, some sweet – ranging from failed carolling attempts to a tear-jerking Christmas morning reunion.
Krueger: Forty-eight minutes is a thousand lifetimes online. This documentary belongs on a TV schedule. The trailer has no sizzle and does little to encourage viewing of the full-length version. Cleaning a dead duck? Bathtub births? The Sainsbury's connection was buried if not completely lost.
Smit: I could only watch the three-minute trailer, which leads me to wonder who will watch the 48-minute film. It's touching in many ways – particularly the soldier "surprise." I also love watching children in the moment they see the Santa presents under the tree. It never gets old.
Stewart: It feels very stereotypical in that they produced extensive content but I'm not sure what the key message was. It was nice but not special or engaging, unlike other programs from Sainsbury's where they chose a street in the UK through a contest and turned it into a special holiday party with decorations, food and gifts.
Worldwide (Canada): UGroupMedia's Portable North Pole
Portable North Pole is an app that creates a customized message from Santa woven into a behind-the-scenes look at the goings-on at the North Pole. Users input information like their child's name and hear Santa speak directly to them. For a fee, users can get a more extensive look behind the scenes and add more names to the message, with some of the proceeds benefiting a network of children's hospitals in the US, UK, Ireland, France and Canada.
Krueger: This is another reason for Canada Post to raise the price of stamps. Portablenorthpole.com is fun technology that exploits St. Nick (with a small charity angle). The North Pole must be extremely busy this time of year as the site is very slow to load.
Smit: Several years ago we made one of these videos for our children. It was cute and fun. Children love hearing their names in a story. It used to be in those books you get customized at craft sales, now it's as easy as a few keystrokes on your computer at home. Just like that, they are the star of the story and it's especially wonderful because Santa himself is speaking to you. However, I still haven't figured out what the commercial aspect is about this video. I don't recall paying anything for it or being served up any ads, nor do I recall what company would benefit from my interaction other than my children, which I guess is enough to keep me happy.
Stewart: Great idea. It was very engaging but needed lots of time spent trying to make it work – execution and consumer journey is very key when developing apps. It would have been more special to have the children's network benefit more prominent in the beginning of the experience, making it more special for the time spent.