Facebook tests autoplay video ads
A Mindshare promo for Summit Entertainment's Divergent serves as a guinea pig for the new ad unit.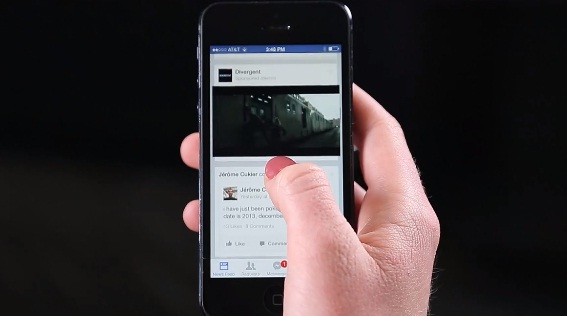 Facebook has partnered with Mindshare and Summit Entertainment to begin testing a new video viewing format for advertisers this week, the social media giant announced in a blog post yesterday.
Starting this week for a small group of test users, video ads for Summit's new film Divergent will begin to play without sound as soon as they come into view on the News Feed on both desktop and mobile platforms. Users can click or tap to expand the video to full screen and/or play with sound. At the end of the video, a carousel with two additional videos will appear allowing users to scroll through more content from the same marketer. If users don't want to watch the video they simply scroll past it.
According to Facebook's press release, the new video format has seen increased views, likes, shares and comments by more than 10% since it was introduced for certain non-advertising videos in September. The release specifies that the format isn't a one-size-fits-all solution, but rather is best suited to "awareness campaigns that are meant to reach a large number of people to increase interest in a brand, product or content, in a short amount of time."
Facebook will not disclose pricing and has not revealed when the format will become available to all marketers and seen by all users.