#CES2014: The digital marketing upgrade
Matthew Ramella, VP of digital at UM Canada takes MiC to Las Vegas to show how this year's tech offerings are helping to enable people's experiences.
By Matthew Ramella
I'm winding down my first visit to CES with a singular thought in my head – upgrade! I couldn't agree more that we're living in the Age of the Upgrade, where what we already own is going to be replaced by "a more awesome version of the same thing." If we're living in this Age of the Upgrade, then CES is the embodiment of our new normal.
Whether we're driving in a connected car, wearing vibrating underwear, creating our food with 3D printers, or reading snippets of news on our curved smartphones, the physical goods and services that we use daily are being re-imagined thanks to advances in technology.
Between the sensory overload that is the CES floor and attending our engaging IPG Mediabrands/AdAge speaker sessions, a key theme began to emerge – simple and intelligent experiences.
I'm talking about technology, smart algorithms and constrained design (thanks to mobile) that is helping to simplify and personalize how we're all consuming content. For brands, this provides a powerful opportunity to be much more valuable, entertaining and relevant for people. We are now truly able to upgrade digital advertising to enhance experiences vs. disrupt them.
Take Microsoft for example, where Xbox One Kinect facial recognition automatically personalizes the screen experience, integrates live TV without the hassle of switching inputs and adds convenience through voice commands. Not to mention Smart TVs that are bringing together Automatic Content Recognition (ACR) with personalization technology to reshape the future of television viewing. This audio and video fingerprinting (think Shazam) is now being built in to connected TVs and devices to provide real-time information about the show you're watching, second screen content, social TV interactivity and more targeted advertising.
And then there's Yahoo's latest acquisition, Aviate, which was announced this week at CES. Aviate is a predictive software platform that simplifies your phone by learning your habits. It then automatically surfaces contextual information from your apps at the moment you need it. If you're familiar with Google Now, it's a similar concept.
Combine that with the launch of the Yahoo! News Digest app, built off the back of Summly technology, and you can see how content is quickly being re-imagined and delivered in simpler, more intelligent ways.
From a wearables and connected home/car perspective, Shingy (AOL's digital prophet) reinforces that it can become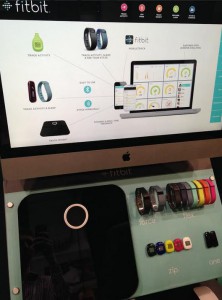 really interesting for brands when they tap into this data to deliver hyper-gratification. Measuring everything through products like Fitbit, the beautifully-designed new Core Smartband from Sony (a UM client), or app-powered car dashboards is just the tip of the iceberg, and connected tech will further evolve to use the intelligence that's being gathered to reward people in highly relevant ways. Brands will be critical to driving the value proposition for the "connected human," who will likely be driving to work in a connected car. The end result will be a completely new way to market to people, stitching together a brand story cross-device/screen while delivering messages tailored to a person's actual behaviour.
The key takeaway for marketers coming out of CES: Unlock relevance through smarter uses of data and technology. Sensors embedded within devices will allow us to upgrade messaging to be more contextual and personalized. Brands will need to learn how to leverage this intersection of data-driven targeting with creativity to provide stuff that matters and add more value to people's lives.
As an industry, the opportunity to scale higher quality, more relevant brand content will be incredibly powerful and exciting. I'm ready to make that upgrade. Are you?
Matthew Ramella is the VP of digital at UM Canada.