Customizable integrations proposed for theme park
Marblemedia's Mark Bishop explains how RFID bracelets and digital screens will allow brands and advertisers to activate at its proposed $60M Toronto theme park.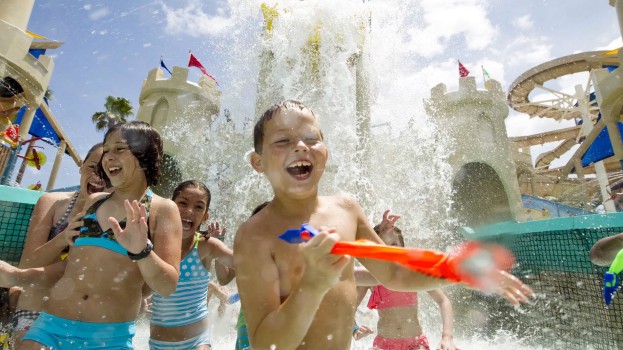 Earlier this week, Marblemedia announced intentions to build a $60 million theme park in the Toronto area with "digital media and storytelling at its core."
Mark Bishop, co-CEO and executive producer, Marblemedia, tells MiC that the nature of the advertising and brand integration opportunities planned for the proposed park go beyond naming rights for the venue and distinct areas within the park.
Bishop says the video projections and digital interfaces that Marblelive, Marblemedia's live entertainment division, plans to incorporate into the park combined with RFID bracelet technology will allow for a customizable experience at each park attraction for both visitors and advertisers. Bishop outlines a scenario where visitors interact with the park's attractions before they arrive by playing games and building avatars online. When the visitors arrive in person, sensing the RFID bracelet, the attraction responds by showing their results or relaying the content they pre-selected at home.
"When you go down the waterslide, you'll be able to have pre-customized what music you want played and the light show that you want to have happen within that slide," he offers as an example.
The RFID bracelets will allow visitors to connect their social media profiles to their experience in the park. With cameras integrated throughout the attractions to capture the action, Bishop says the intention is for visitors to be able to leave their smartphones in their lockers and not miss out on sharable moments. The park will have "social media sharing stations" incorporated throughout where visitors can review their trip down the waterslide, say, before deciding to share it with their friends and followers.
"That will also give us great opportunity to integrate brands, quite deeply within the attractions," says Bishop.
Bishop says that with the significant amount of data collected from each visitor though the RFID bracelet, advertisers will be able to customize their messages to target whomever is engaged with a particular attraction, whether its kids, young adults or corporate professionals.
Bishop also says Marblelive is considering licensing its technology to other operators. "Through the technology and applications that we develop we may in the future look to license out what we're building to other parks or even other types of attractions as well."
A location for the park is still to be determined. Marblelive executives are in talks with city officials in Toronto and Mississauga. The park is slated to begin construction in spring 2015 and open its doors in fall 2016. Bishop has said Marblelive expects the park to draw 500,000 visitors its first year of operation.